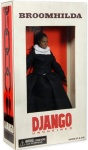 Responding to criticism from advocacy groups like Al Sharpton's National Action Network directed at action figures based on characters from Quentin Tarantino's
Django Unchained
(see "
'Django Unchained' Figures Draw Criticism
"), NECA has decided to "discontinue" the figures. According to
TMZ
, NECA took this step at the behest of the Weinstein Company, which produced
Django Unchained
and supervised a licensing program that also includes a DC comic book series based on Tarantino's original screenplay.
While the "discontinuation" may be good public relations, it is unclear how much of a hit NECA is taking since the figures have already shipped, and are unlikely to be returned. Why is that? Well the one certain effect of these sorts of attempts to suppress a toy like this is to turn it into an instant collectible. Already the Django Unchained figures are being listed on Amazon (by third party sellers) for ridiculous sums like $2,999 (for a Schultz 8" Action Figure) or $4,999 (for a Broomhilda 8" Action Figure). Whether these figures are really rare enough vis-à-vis demand to warrant these stratospheric prices or not, only time will tell.