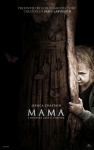 While new films featuring high profile stars Mark Wahlberg, Russell Crowe, and Arnold Schwarzenegger flopped, a modest old-fashioned ghost story claimed the box office crown with a far better-than-expected total of $28.1 million. Universal's Mama, a supernatural thriller produced by Guillermo del Toro and directed by Andres Muschietti, stars Jessica Chastain, who also happens to topline Kathryn Bigelow's Zero Dark Thirty, which took the box office crown last week and finished in second place during this frame when the total of the top 12 films was up a solid 11.1% versus last year when Underworld Awakening top the charts with a total of $25.3 million.
Mama, the story of the adoption of two feral girls, is an old-fashioned thriller, which eschewed the gore and torture scenes that blight so many modern horror movies with their cheap thrills, in favor of more conventional horror "pop-ups" and classic scenes of brooding tension. With its "PG-13" rating Mama also managed to attract younger teens, an audience that has been ill-served by the vogue for hard "R" horror movies. Sixty-one percent of the opening weekend audience for Mama was female, and a full 63% was under the age of 25. Unfortunately the audiences didn't like the movie as much as the critics, giving Mama a mediocre "B-" CinemaScore, while the pundits provided a much better than average (for a horror movie) rating of 63% positive on review aggregator Rotten Tomatoes.
Weekend Box Office (Studio Estimates): January 18-20, 2013

Film

Weekend Gross

Screens

Avg./

Screen

Total Gross

Wk#

1

Mama

$28,123,000

2,647

$10,624

$28,123,000

1

2

Zero Dark Thirty

$17,600,000

2,946

$5,974

$55,945,000

5

3

Silver Linings Playbook

$11,351,000

2,523

$4,499

$55,310,000

10

4

Gangster Squad

$9,110,000

3,103

$2,936

$32,220,000

2

5

Broken City

$9,000,000

2,620

$3,435

$9,000,000

1

6

A Haunted House

$8,330,000

2,160

$3,856

$29,980,000

2

7

Django Unchained

$8,243,000

2,516

$3,276

$138,362,000

4

8

Les Miserables

$7,814,000

2,579

$3,030

$130,372,000

4

9

The Hobbit: An Unexpected Journey

$6,405,000

2,323

$2,757

$287,395,000

6

10

The Last Stand

$6,300,000

2,913

$2,163

$6,300,000

1
Zero Dark Thirty, the Oscar-contending Bin Laden huntdown movie, which also stars Chastain, dropped just 28% in its second week of wide release as it earned an estimated $17.6 million and brought its domestic total to $55.3 million. Chastin took home a Golden Globe last weekend for her work in Zero Dark Thirty, which should continue to rack up earnings between now and Oscar time.
Third place went to another film with Oscar potential, David O. Russell's Silver Linings Playbook, which expanded from 810 to 2,523 theaters as it increased its box office take by 126%. Kudos must go to the Weinstein Company for its clever rollout of this comedy drama, which gained considerable momentum in limited release. The limited rollout model for Oscar hopefuls remains the paradigm, so audiences can expect to see the limited debuts of "serious" films inch later and later in Q4 with wide rollouts slated for the less competitive weeks in early January.
Fourth place went to Ruben Fleischer's period crime drama Gangster Squad, which dipped 47% as it earned an estimated $9.1 million and brought its domestic cumulative to $32.2 million, which is still far from the $120 million that $60 million movie needs to earn to break even. But Gangster Squad still managed to beat the Mark Wahlberg/Russell Crowe neo-noir Broken City, which debuted in fifth with an estimated $9 million. But Gangster Squad was "gangbusters" compared with Arnold's cop drama The Last Stand from Lionsgate that brought in a paltry $6.3 million and debuted DOA in 10th place.
Marlon Wayans' "found footage" parody A Haunted House dropped 54% and landed in sixth, but this film, which was made for a paltry $2.5 million, has already earned nearly $30 million.
Meanwhile Quentin Tarantino's
Django Unchained
slipped just 25% in its fourth week as it earned an estimated $8.2 million and brought its domestic total to $138.3 million. In spite of controversy sparked by complaints from some African-American groups that have turned NECA's
Django Unchained Action Figures
into instant collector's items (see "
NECA 'Discontinues' 'Django Unchained' Action Figures
"),
Django Unchained
continues to perform extremely well at the box office.
Peter Jackson's The Hobbit: An Unexpected Journey also continues to demonstrate good "legs" during its sixth weekend in theaters as its gross declined 30% as it earned $6.4 million bringing its domestic cumulative to $287.4 million and its worldwide total to $895.4 million. The first of Jackson's Hobbit films appears assured of passing the $300 million mark domestically, and eclipsing the $1 billion mark worldwide remains a distinct possibility. Meanwhile this weekend the 23rd James Bond film, Skyfall, passed the $300 million mark here in North America and the $1 billion mark worldwide.
Check back next week to see how a trio of new movies including Jason Statham as Parker in a new adaptation of Richard Stark's classic crime novel, the raunchy star-studded comic anthology film Movie 43, and the dark fantasy Hansel and Gretel: Witch Hunters starring Jeremy Renner (The Avengers) and Gemma Atherton (Captain America) perform at the multiplexes.