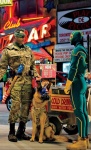 Here is the first still from Jeff Wadlow's Kick-Ass 2: Balls to the Walls released by Universal. It shows Aaron Johnson as the film's eponymous hero conversing with Jim Carrey as Colonel Stars & Stripes, who is accompanied by a very cute patriotically clothed canine. Wadlow's film, which is one of a dozen movies slated to open in 2013 that are directly based on comic books, will open nationwide on June 28th.
Although this is the first officially released still from
Kick-Ass 2
there have been more than few fan-snapped photos, many of which were captured during the film's location shooting in Toronto, which is standing in for New York in the film (see "
Set Pics of Jim Carrey as Colonel Stars
").