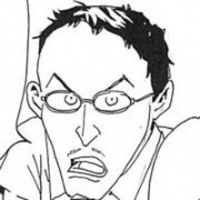 Hisashi Sasaki, the Deputy Director of the Shonen Manga Group and former Editor-in-Chief of the Weekly Shonen Jump manga anthology graciously consented to answer questions from ICv2 about the simultaneous release of the American digital edition of Shonen Jump. Sasaki-san also provided some insights on the hot new manga series that appeared in Shonen Jump (a major manga incubator) from 2011-2012, and talked about his desire to see digital comic-reading devices improve to the point that they will be able to present the reader with images that reflect the original intentions of the manga creators.
Do you have plans for any other simultaneously-released digital editions of

Weekly Shonen Jump
, including Japanese or any other languages?
In Japan the distribution of digital magazines has only just begun, and the print magazine business is still quite healthy, so we won't be doing a digital release any time soon. As for foreign markets however, we are actively considering simultaneous digital releases. I can't say exactly where and when right now. We are also considering releasing it in languages other than English, and going beyond English speaking countries. Again, I can't say exactly in which countries and when this will happen. Our dream is to be able to have everyone in the world read Shonen Jump every Monday.
Weekly Shonen Jump
has traditionally been a superior incubator for new manga properties. What are some of the hot properties that

Weekly Shonen Jump
has developed recently that Americans may not be familiar with?
Many series have become popular from 2011 to 2012. There's Kuroko's Basketball, High Kyuu!!, The Disaster Of Psi Kusuo Saiki and Assassination Classroom. These series will not yet be distributed simultaneously for various reasons such as censorship and translation difficulty (for example, translating a gag manga without having anything being lost in the translation is extremely difficult). Also, for Shonen Jump in Japan, there are anywhere from ten to fifteen new series that start every year. As you say, this is both what is unique about Shonen Jump as well as its mission. For the simultaneous releases of Shonen Jump in English, we are thinking that we actively want to release new series from chapter one.
American fans have been clamoring for a simultaneous English release of

Weekly Shonen Jump

titles for years. What factors in the digital landscape have changed and influenced your decision to make the move to simultaneous publication of Weekly Shonen Jump now, and what are your feelings about that move?
Fundamentally, manga is created to be read in units of two-page spreads. Publishers must be dedicated to providing this to the reader as faithfully as possible.
However, in the United States, the transition of reading habits from print to digital has been very rapid. And maintaining a healthy business model for a print magazine has become increasingly difficult. These were the factors that led to the decision to make the transition from print to digital last year in January of 2012.
People read manga on a variety of different devices with different screen sizes, and we are still not completely satisfied that these all completely reflect the original intentions of the manga creators. We believe that the technology to resolve these issues will be developed. Also for the past year, we were in the Alpha phase where we allowed two extra weeks of production time so that we could ensure the manga would be delivered to our readers in the best possible format every week. We are now confident that this can be done on simultaneous releases.

These are the various factors that went into the decision to move to simultaneous releases. This is the first step towards realizing our dream, as well as the dream of many manga fans around the world. We are extremely excited about this, and we arealso proud of Team Jump, who have been putting everything they have into making this incredibly difficult endeavor a reality.