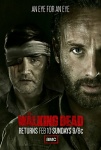 AMC has released a new teaser for the debut of the second half of Season 3 of the comic book-based zombie epic
The Walking Dead
. Check out this new trailer for some hints of horrors that await Rick and his small band of survivors in their war with Woodbury. With the new season set to debut on February 10th, the trailers from AMC are coming out at a furious pace (see "
New TWD Trailer
").
The Walking Dead
continues to be the primary media sales driver of graphic novel sales in both the direct and bookstore markets (see "
'Walking Dead' Tops 2012 Charts
" and "Image Dominates Bookstore Top 20" for evidence of the property's domination of graphic novel sales in both channels).