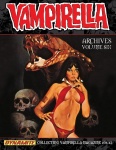 Vampirella Archive Vol. 6 HC
Publisher: Dynamite Entertainment
Release Date: January 30, 2013
Cover Price: $49.99
Writer(s):
Archie Goodwin, Doug Moench, Rich Margopoulos, Flaxman Loew, Fernando Fernandez, Gerry Boudreau & Steve Skeates
Artist(s):
Jose Gonzalez, Auraleon, Luis Bermejo, Paul Neary & Ramon Torrents
Format: 392 pgs.; Black & White; Hardcover
Rating: Mature
Featuring the best in iconic horror, science fiction and fantasy, comes Vampirella Archives Volume 6! Starting off with issue #36 which celebrates the 5th anniversary of Vampirella and her magazine and ending the volume with #42. All the best in the industry are featured in this collection showcasing memorable classics by Archie Goodwin, Jose Gonzalez, Esteban Moroto, Felix Mas, Sanjulian, Enrich and countless others.
Description of preview: 12 pages (11-22)