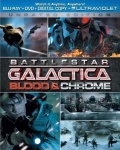 The pilot for the
Battlestar Galactica: Blood and Chrome
TV series, which was rejected in 2012 by the SyFy Network last February, will at last get an airdate. The Syfy Network has scheduled the pilot on Sunday,February 10th 8pm to 10pm (ET, PT). The pilot has been seen--it was shown as a weekly series on the Machinima Prime YouTube channel (see "
Blood and Chrome on Web
"). The version that will be aired on Syfy will include scenes that were not included in the online showings. The pilot movie will be released on DVD, Blu-ray, and VOD on February 19th.
Blood and Chrome is set during the First Cylon War and follows the adventures of the young William Adamo (Luke Pasqualino). David Eick, who produced the award-winning BSG revival, was the executive producer of Blood and Chrome.