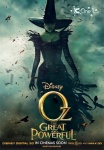 Disney has released a new trailer for director Sam Raimi's
Oz: The Great and Powerful
with stars James Franco and is set to debut on March 8th. Raimi's film is a prequel to the 1939 classic
The Wizard of Oz
, and like Victor Fleming's classic film, Raimi's
Oz
movie features a black-and-white prologue set in the "real" world, and a gorgeous technicolor Land of Oz.
The new trailer for Raimi's film comes just six weeks before the film opens. An earlier trailer was released last summer at Comic Con, where it stirred interest in the fantasy film among the faithful (see "
First Trailer for 'Oz: The Great and Powerful'
").