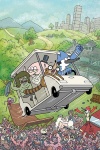 BOOM! Studios has announced that in April its Kaboom imprint will launch a new ongoing comic book series based on the hit Cartoon Network series, The Regular Show. The move makes perfect sense for Boom!, which has already created a hit comic book series based on another excellent Cartoon Network series Adventure Time. Kaboom's Regular Show comic book series will be written by Webcomic veteran K.C. Green (Gunshow) and illustrated by newcomer Allison Strejlau.
Created by J.G. Quintet, The Regular Show features the side-splitting adventures of Mordecai, a six-foot tall Bluejay, and Rigby the raccoon, a couple of best buds whose attempts to lead a cheerful slacker existence are continually compromised by others in their wonderfully weird world.
The Regular Show #1 will ship in April with main covers by Nick Edwards, Nathan Fox, Phil McAndrew, John Allison, and Noelle Stephenson. There will also be a pre-order variant by Chris Houghton, and an incentive variant by Dustin Nguyen, plus a box set of six variants for collectors.