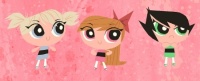 Cartoon Network has announced its shows for the 2013-2014 season, including specials based on Powerpuff Girls, Lego Star Wars, and more.
The Powerpuff Girls Special, based on the series that ran 1998 to 2005, will feature an original song by Ringo Starr, I Wish I Was A Powerpuff Girl. Starr will also voice the role of Townsville's most famous flamboyant mathematician, Fibonacci Sequins. The original voice cast will reprise their roles.
The Yoda Chronicles are three specials based on Lego Star Wars. Set in the Prequel timeline, they'll tell the story of Yoda leading the Jedi against Darth Sidious and his minions who are trying to build a new super-weapon.
Adventure Time Special will air February 18th and will feature Neil Patrick Harris and Donald Glover. In it, the princesses are tired of Ice King's Fionna and Cake stories, so Marceline tops by the Ice Kingdom to show him how it's done.
Regular Show Special will be a 30-minute Thanksgiving special, in which Mordecai and Rigby accidentally ruin Thanksgiving and have to find a way to save it.