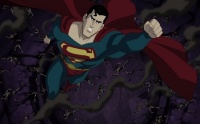 Warners has released the first trailer for Superman Unbound, the next DC animated direct-to-DVD feature. No release date has been announced to date. The film is based on the Superman: Brainiac story arc, by DC Chief Creative Officer Geoff Johns.
This confirms that the flow of DC animated features will continue, at least for now, despite the shuttering of Warner Premiere, the division that had been releasing them (see "
Warner Premiere Closed
").