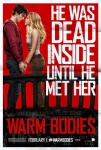 The Super Bowl definitely didn't help the movie box office this weekend, which posted its lowest total since September 7-9 of 2012. The gross of the top 12 films was down 27.2% from the same frame last year when the science fiction film Chronicle opened with $22 million. This weekend it was Warm Bodies, the saga of a romance between a human girl and a zombie that topped the charts with an estimated $19.5 million. But it didn't get much help from the other widely-released newcomer. The comic book-based action film Bullet to the Head starring Sly Stallone bombed as it opened with well under $5 million despite being in 2,400 theaters.
Warm Bodies is based on a novel by Isaac Marion about the love between a normal human girl and a zombie that is filled with allusions to Romeo and Juliet, and which garnered praise from, you guessed it, that doyenne of "supernatural mixed relationships" Stephenie (Twilight) Meyer. While Warm Bodies is hardly a hit of the same order of magnitude as the Twilight movies, it did very well with younger females. Women made up 60% of the audience with 65% of the opening weekend crowd under 25. Critics liked the film, which earned a 77% positive rating on Rotten Tomatoes, while audiences gave the film a solid "B+" CinemaScore, which should translate into decent "legs" in the coming weeks.
Weekend Box Office (Studio Estimates): February 1-3, 2013

Film

Weekend Gross

Screens

Avg./

Screen

Total Gross

Wk#

1

Warm Bodies

$19,505,000

3,009

$6,482

$20,025,000

1

2

Hansel and Gretel: Witch Hunters

$9,210,000

3,375

$2,729

$34,463,000

2

3

Silver Linings Playbook

$8,113,000

2,809

$2,888

$80,378,000

12

4

Mama

$6,730,000

2,781

$2,420

$58,262,000

3

5

Zero Dark Thirty

$5,300,000

2,871

$1,846

$77,798,000

7

6

Bullet to the Head

$4,500,000

2,404

$1,872

$4,500,000

1

7

Parker

$3,215,000

2,238

$1,437

$12,440,000

2

8

Django Unchained

$3,039,000

1,777

$1,710

$150,979,000

6

9

Les Miserables

$2,439,000

1,848

$1,320

$141,523,000

6

10

Lincoln

$2,412,000

1,756

$1,374

$170,787,000

13
Last week's winner, Hansel and Gretel: Witch Hunters dropped 53.2% to an estimated $9.2 million, which brings its lackluster domestic cumulative to $34.5 million. The Oscar hopeful comedy/drama Silver Linings Playbook continues to demonstrate some serious staying power as it moved up to #3 with an estimated $8.1 million. The $21 million film has now earned over $80.3 million domestically and has pulled ahead of fellow Oscar-seeker Zero Dark Thirty, which finished in fifth with an estimated $5.3 million. Other Oscar hopefuls also continued to do well as Django Unchained, Lincoln, and Les Miserables all remained in the Top Ten, and buoyed by a series of awards that includes the prestigious Directors Guild nod, Ben Affleck's Argo added 300 theaters (in its 17th week of release) and moved up to #11.
The rather traditional horror film Mama continues to eclipse its gorier genre counterparts as it dropped 48.6% in its third frame as it brought its total to $58.2 million.
Bullet to the Head
, which is based on a French graphic novel that was published here by Dynamite Entertainment (see "
BD Based Stallone Film
"), became the third R-Rated action movie in a row here in 2013 to open weakly, following in the footsteps of Arnold Schwarzenegger's
The Last Stand
, and Jason Statham's
Parker
.
Bullet to the Head
attracted an older crowd, 81% was over 25, an indication that Stallone's fan base is aging. With a pitiful per theater opening weekend average of just $1,872,
Bullet's
only hope is that more of its older male audience will be available in the post-Super Bowl weekends to come.
Meanwhile in its second weekend Parker dropped 54.1% and fell from #5 to #7 as it earned an estimated $3.2 million. While it is struggling, it is worth noting that its second week per-theater average of $2,238 is well above Bullet to the Head's debut figure.
Mention should be made of Peter Jackson's The Hobbit: An Unexpected Journey, which has run its domestic total to $296.2 million and its worldwide cumulative to $942.5 million, and, at the other end of the success spectrum, the awful anthology film Movie 43, which dropped 65.7% and fell to #15 in its second week of release.
Check back here next week to see if either the raunchy comedy Identify Thief or the R-rated thriller Side Effects from director Steven Soderbergh will make much of an impression on the box office.