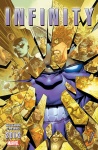 Following the brief appearance at the end of 2012's
The Avengers
film as well as the recent news about the
Thanos Rising
limited series in April (see "
'Thanos Rising' in April
"), fans have hungered for the Eternal's return. This May, Marvel reunites its greatest superhero teams to combat the most dangerous threat facing the Marvel Universe in
Infinity
.
Penned by Jonathan Hickman (Avengers, New Avengers, the Manhattan Projects) with art by Jim Cheung (Avengers, Spider-Men), Infinity is an all-new story pitting the Avengers, X-Men, Guardians of the Galaxy, Fantastic Four, Inhumans, Superior Spider-Man, and a host of other Marvel heroes in an intergalactic war against the evil Thanos. Slated for Free Comic Book Day, Infinity will be launched on May 4, 2013 as a first shot in the war and a prelude to a new Marvel event.
--Nathan Wilson