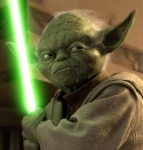 Disney CEO Bob Iger confirmed in an interview on CNBC that the recently acquired Lucasfilm is working on two stand-alone
Star Wars
movies in addition to the new trilogy. The two films are being written by Lawrence Kasdan and Simon Kinberg (who had previously been reported to be working on later films in the trilogy, see "
Kasdan and Kinberg for 'Star Wars'
"), Iger said.
The character at the center of the first of these stand-alone films will be Yoda, according to
Ain't It Cool News.
Iger said that Kasdan and Kinberg are both working with Abrams as consultants on Episode VII.