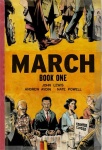 Georgia-based publisher Top Shelf Productions has announced the August 2013 debut of March Vol. 1, the first book in a trilogy of graphic novels that will present a first-person perspective on the Civil Rights movement written by Congressman John Lewis, a pioneer in the movement, whose commitment to justice and nonviolence took him from an Alabama sharecropper's cabin to the halls of Congress.
To create the graphic novel series Lewis is collaborating with co-writer Andrew Aydin (Lewis' Congressional aide) and artist Nate Powell, who won an Eisner Award for
Swallow Me Whole
(see "
Congressman John Lewis Signs With Top Shelf
"). The first volume in the March trilogy will be released on August 13th, 2013, just two weeks before the 50th Anniversary of the historic 1963 March on Washington. Lewis and his co-creators will be promoting the book with featured keynote appearances at BookExpo America, the American Library Associations' Annual Conference in Chicago, and the San Diego Comic-Con.