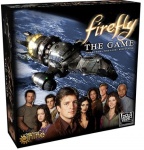 At Toy Fair Gale Force 9 is showing off a new board game that will debut in August at Gencon,
Joss Whedon's Firefly: The Game
(MSRP $49.99), is a new game based on Whedon's cult hit outer space western
Firefly
. Designed for up to four players, ages 13 and up,
Firefly: The Game,
which is licensed from 20th Century Fox, takes about two hours to play.
In addition to the newly announced
Firefly
board game, Gale Force Nine plans to create additional tabletop
Firefly
games including miniatures games. Check back for information on any new
Firefly
games as it becomes available
This is Gale Force Nine's second licensed game; the company has a big hit with its
Spartacus
game, which premiered at Gen Con last year (see "
'Spartacus' Expansion
").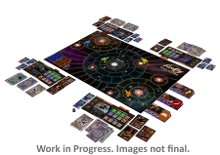 In the game the players get to captain a
Firefly
class spaceship. Desperate for work, Captains must make contacts and scrounge up jobs and then find the kind of crew that can handle the sort of missions that have been undertaken, and finally complete the mission to earn enough to keep flying. Captains have the choice to undertake legal or illegal tasks, but they must recruit their crew well. They face a variety of challenges from double-dealing employers, heavy-handed Alliance patrols, and marauding raiders in this high-end thematic tabletop board game. Earnings from completed missions can be used to upgrade the ship in order to equip it to take on more dangerous and more lucrative tasks.
Toy Vault also has some
Firefly
game rights (see "
Toy Vault Nabs 'Firefly'
").