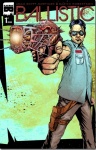 Black Mask Studios, formed last year with "the aim of disrupting the comics market" (see "
Black Mask Studios
"), has announced three new titles for May and June in addition to the previously announced Occupy Comics, which will release May 1st. RZA of the Wu-Tang Clan and Ghostface Killah are writing
12 Reasons to Die
, which will launch May 29th. Art on the horror-crime hybrid will be by a rotating team of artists including Riley Rossmo, Tim Seeley, Joe Infurnari, Kyle Strahm, Gust Storms & Breno Tamura, with covers by Ronald Wimberly and Christopher Mitten.
Liberator, a vigilante series about avenging animal torture by Matt Miner and Joel Gomez, will launch June 19th. Covers will be by Chris Burnham, Tim Seeley, Yildiray Cinar, and Joe Prado.
And Ballistic, a sci-fi adventure by Darick Robertson and Adam Egypt Mortimer, will launch June 26th.