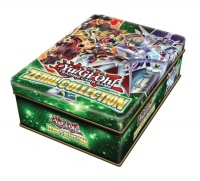 Konami has shared detailed information on Lord of the Tachyon Galaxy and other spring Yu-Gi-Oh! TCG releases.
On March 8, Konami will release the Zexal Collection Mini-tin, with an all-foil set. Three ultimate rare cards will be included in each tin, along with 11 cards of a 21-card set (all with high power levels). The cards have not been seen before in the U.S., Konami Vice President – Card Business Yumi Hoashi told ICv2 art Toy Fair. "We picked cards that were in the Duelist Pack Yuma and Duelist Pack Kite, which were released in Japan, but that we never released in the United States," she said. MSRP is $9.99.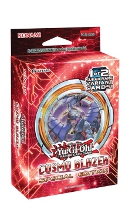 Cosmo Blazer Special Edition
will be released March 22nd. Each Special Edition will include three
Cosmo Blazer Booster Packs
and one of two super-rare variant cards for $9.99. "The two variant cards are the Wind-up Shark and Blade Armor Ninja," Hoashi said. "Both of them are tournament level cards are seeing tournament play."
Hoashi said the Cosmo Blazer set, released in January is doing well here and has high potential based on the reaction in Japan. "We've got some really good themes in it," she said. "A lot of it is fire-based themes, but the Fire Fists, new fire-themed decks, is doing very well in the tournament scene in Japan so we have very high hopes for it in the U.S. as well."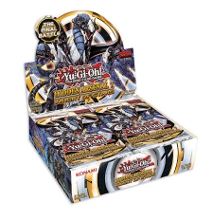 Hidden Arsenal 7: Knight of Stars
will street April 19th. Each $3.99 pack will contain five cards at $3.99, as in the past, but this final set includes 70 all-foil cards, vs. the 60 cards in previous
Hidden Arsenal
sets. Leading up to the final battle between light and darkness, this is the most powerful
Hidden Arsenal
set produced to date. "The set focuses on the Constellar themes and the evil swarms," Hoashi told us. "Evil swarms is the evil version of Brionac, which was our
Hidden Arsenal 4
. That was a strong release, so we have very high hopes for
Hidden Arsenal 7
."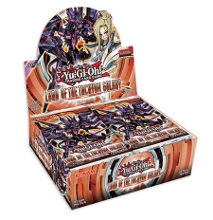 Lord of the Tachyon Galaxy
is a 100-card booster set releasing in May. It will introduce "Number 107: Galaxy Eyes Tachyon Dragon," and new cards for Fire Fist, Mermail and Spellbook decks. "This has new themes," Hoashi said. It's got the mega-phantom beasts which makes it easier to summon high-ranking Xyz monsters. We're also bringing back Synchro monsters. The set also includes new rank-up magic cards that are a new way to upgrade Xyz monsters."