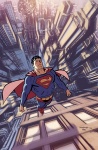 DC Comics has released a statement in response to criticism over its hiring of science fiction writer Orson Scott Card to write
Adventures of Superman
. The criticism was related to Card's positions and activism opposing gay marriage (see "
Gay Organizations Protest DC's Hiring of Orson Scott Card
").
DC told the
Advocate
, "As content creators we steadfastly support freedom of expression, however the personal views of individuals associated with DC Comics are just that – personal views – and not those of the company itself."