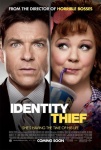 The raunchy "R-rated" comedy Identity Thief reclaimed the top spot at the weekend box office, but needed only an estimated $14 million to do so in a very weak session in which the box office total was down 23% from the same weekend last year when the forgettable Act of Valor opened with $24.5 million. Identity Thief fell just 41% in its third frame. It is the first bona fide hit of 2013, and it should pass the $100 million mark this week.
The lone new film, the father/son civilian-turned-undercover informer drama Snitch, which stars Dwayne "The Rock" Johnson, debuted in second place with an estimated $13 million. Given The Rock's recent track record, the opening of Snitch has to be seen as a disappointment, though it did debut better than recent action movie efforts from geri-action stars Sylvester Stallone (Bullet to the Head, $4.5 million) and Arnold Schwarzenegger (The Last Stand, $6.3 million). Snitch's audience was, atypically for an action movie, just 53% male and older with 57% of moviegoers over 30. The movie's lackluster "B" CinemaScore could mean tough sailing ahead as the competition gets more intense in March.
Weekend Box Office (Studio Estimates): February 22-24, 2013

Film

Weekend Gross

Screens

Avg./

Screen

Total Gross

Wk#

1

Identity Thief

$14,064,000

3,222

$4,365

$93,667,000

3

2

Snitch

$13,000,000

2,511

$5,177

$13,000,000

1

3

Escape From Planet Earth

$11,013,000

3,353

$3,285

$35,144,000

2

4

Safe Haven

$10,600,000

3,223

$3,289

$48,062,000

2

5

A Good Day to Die Hard

$10,000,000

3,555

$2,813

$51,802,000

2

6

Dark Skies

$8,850,000

2,313

$3,826

$8,850,000

1

7

Silver Linings Playbook

$6,051,000

2,012

$3,007

$107,476,000

15

8

Warm Bodies

$4,750,000

2,644

$1,797

$58,268,000

4

9

Side Effects

$3,511,000

2,070

$1,696

$25,254,000

3

10

Beautiful Creatures

$3,410,000

2,950

$1,156

$16,372,000

2
Third place went to Escape From Planet Earth, the celebrity-voiced, by-the-numbers family-targeting computer-animated feature from the Weinstein Company that has now earned about $35.1 million domestically.
The romantic drama Safe Haven, which is based on a novel by Nicholas Sparks, dropped 50%, but managed to gross $10.6 million in its sophomore frame as it drove its Valentine's Day-aided domestic cumulative of $48.1 million.
More evidence that Hollywood is facing a sort of mini-crisis as its action movie stars shuffle off into their dotage can be found in the second week performance of the Bruce Willis-starring A Good Day to Die Hard, which "fell hard" with a 60% drop-off as the fifth film in the Die Hard franchise landed in fifth place during its second weekend of release. Critics hated this installment of the franchise, which got only a 16% positive rating on Rotten Tomatoes, and judging from the film's second weekend performance, word-of-mouth on the movie isn't very good either. The film's poor domestic showing doesn't necessarily spell doom for the franchise—it is doing well overseas where it has earned 71% of its worldwide total of $184.3 million.
The micro-budgeted, alien invasion/horror thriller Dark Skies also flopped as it debuted in sixth spot with an estimated $8.5 million in spite of an advertising campaign that probably cost quite a bit more than the movie itself ($3.5 million). With a miserable "C+" CinemaScore from opening weekend audiences, Dark Skies faces a bleak future and direct competition next weekend from The Last Exorcism Part II.
Silver Linings Playbook continues to outgross the other Oscar contenders during the crucial the post-nomination period. This weekend the David O. Russell dramatic comedy dropped just 3.1% as it earned an estimated $6 million. The nine "Best Picture" nominees have brought in $300 million during the six weeks between the announcement of the Oscar nominations and tonight's Hollywood potlatch, so Oscar's importance, especially to the type of "serious" movies that get Academy Award consideration, is hard to overstate.
Check back next weekend to see if Bryan Singer's big budget Jack the Giant Slayer can put some juice back in the box office after a very dehydrating month of February.