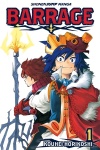 Barrage Vol. 1 TP (Manga)
Publisher: VIZ Media
Release Date: March 5, 2013
Price: $9.99
Creator: Kouhei Horikoshi
Format: 192 pgs.; B&W; Trade Paperback
ISBN: 978-1-4215-5275-0
Age Rating: Teen
ICv2 Rating: 3 Stars out of 5
In a distant galaxy lies the planet Industria. On this planet is a spunky kid named Astro just trying to get by while supporting a group of orphans that he has taken into his home. One night, something incredible happens. His exact double appears before him, sticks a legendary bracelet called the Orgue on his wrist and tells him to take his place as prince of the planet. Soon after guards appear and take Astro to the castle under the impression that he is their prince. Now Astro must take the place of Prince Barrage and bring peace to a planet on the brink of war. Not bad for a kid from the slums.
Barrage Volume 1 is not a bad volume of manga. It has a decent story, likeable characters, solid action and passable art. The problem is that none of these features are particularly memorable or outstanding.
From beginning to end, it's obvious just how much the creator likes this title. Sure, it's a little goofy at times (the planet names in particular are just plain silly) but that's part of its charm and humor. It's not aiming to be the most clever title on the shelf but you can tell that it wants to entertain you and on that front it does succeed.
The one thing that I particularly enjoyed about this volume is the very strong pacing. While the book starts slow, this manga very quickly finds its footing and starts racing forward. After the second chapter or so, the pacing of Barrage just gets faster and faster until it feels like you're getting through a chapter just moments after starting it and for a series as filled with action as this one is, that's not a bad thing at all in my book.
Barrage is not going to blow you away with how good it is but it is going to entertain you while you have it open. Ending on a solid cliffhanger, this is a volume of shonen that fans of the genre can pick up and gladly spend a couple of hours with. If you're looking for a new series but don't want to commit to something tediously long, this is a good direction to look.

-- L.B Bryant