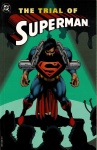 A judge has ruled that attorney Marc Toberoff, who represents the heirs of Superman creators Jerome Siegel and Joe Shuster, did not interfere with agreements between the studio and the heirs as DC Comics and Warner Bros. alleged, according to
Variety
. Warners had filed suit seeking to have Toberoff sanctioned (see "
Studio Sues 'Superman' Mouthpiece
").
The judge had ruled that the efforts by Warners/DC were "...just a rehashing of the tortured course of discovery in these Superman matters."
Toberoff had called the Warners suit "thug tactics" when it was filed.