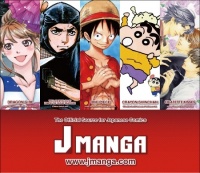 JManga and JManga7, the digital manga services organized by Japan's Digital Comic Association, will shut down. Some functions have ended as of midnight on March 13th; others will be available until the end of May. Refunds or Amazon gift cards will be provided to qualifying customers.
Jmanga launched in August of 2011 with a Flash-based Website (see "
Comic-Con Digital Round-up
"). Jmanga had assistance from the subscription site Crunchyroll, but was never able to get traction with either its properties or consumers.