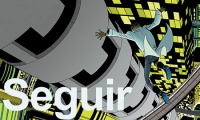 Two years after he left Daredevil, premier Spanish comic book artist Marcos Martin's long-rumored secret project has finally surfaced, and it certainly appears that comic retailers will want to take notice since it involves a collaboration with top comic scribe Brian K. Vaughan (Y: The Last Man, Runaways) whose Saga, which features art by Fiona Staples, has become the hottest new creator-owned comic book series released in years.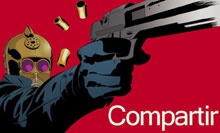 Vaughan and Martin worked together on the
Doctor Strange: The Oath
miniseries way back in 2006. Since that time both Vaughan and Martin have risen to the top ranks of comic book creators and the three images released today should certainly provoke plenty of interest with their profusion of masked characters and superbly-rendered modern cityscapes. These teaser images appeared first on Spanish comic book sites
Zona Negativa
,
RTVE
, and
Entrecomics
.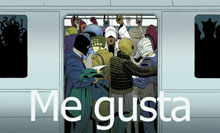 So far not even the title for the new series has been released. Will Image Comics be releasing it? Nothing is definite yet, but odds are this will be a new creator-owned project. After the success of
Saga,
why wouldn't Vaughan want to continue to control what he creates? Each of the images released contains some cryptic verbiage. The image of a man plummeting off a building is accompanied by the word "follow" (Seguir), while the panel of a man in a Rocketeer-like mask firing a gun contains the word "share" (Compartir), and the image of masked subway riders comes with the phrase "I like it." (MeGusta). Who wouldn't be intrigued by this project?