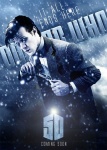 The BBC has released a trailer for the new season of the long-running
Doctor Who
series. The seventh season of the "revamped"
Doctor Who
promises to be very interesting especially since Neil Gaiman, who won a Hugo Award for his first
Doctor Who
script, penned another episode that will be included in Season 7 (see "
Second Gaiman-Penned 'Doctor Who' Episode in 2013
").
Is any footage from the Gaiman episode in the new trailer? The answer appears to be yes since there is a shot of the Cybermen, who have not appeared in any
Doctor Who
episodes since 2011, but which are the focus of Gaiman's second
Doctor Who
script (see "
Gaiman's 'Doctor Who' to Feature Cybermen
").