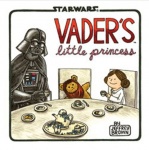 Chronicle Books will release Jeffrey' Brown's
Vader's Little Princess
, the sequel to his
Darth Vader and Son
from 2012, this month.
Darth Vader, Sith Lord and leader of the Galactic Empire, struggles with the responsibilities of raising his daughter, Leia. The future princess, who talks to friends via R2-D2's hologram, grows from a sweet young girl hosting tea parties to a rebellious teenager learning to pilot a TIE fighter.
Among other responsibilities, Vader must make sure Leia doesn't leave the house wearing nothing but her skirted metal bikini.
As a nod to the viral "may the fourth be with you" meme, the 64-page, 6-1/2" x 6-1/2" hardcover book ($14.95) has an official publication date of May 4th, but it will actually release April 23rd.
The book's being promoted with a trailer on StarWars.com.
Brown also has a more serious work in the pipe (see "
Brown Returns to Top Shelf
").


--Brett Weiss