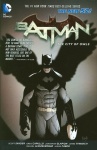 These are estimates of the sales on graphic novels by Diamond U.S. to comic specialty stores during March 2013.
For an overview and analysis of comic sales in March, see "
'Guardians' Debuts Over 200K
."
For an analysis of the dollar trends in March, see "
Comic Market Up 22+% in March
."
For our estimates of actual sales by Diamond
U.S.
from comic specialty stores on comic books shipped during March, see "
Top 300 Comics Actual--March 2013
."
Top 300 GNs – March 2013

Rank

Index

Title

Price

Pub

Est.Qty

1

6.57

BATMAN HC VOL 02 THE CITY OF OWLS (N52)

$24.99

DC

9,054

2

5.24

BATMAN TP VOL 01 THE COURT OF OWLS (N52)

$16.99

DC

7,222

3

5.07

HAWKEYE TP VOL 01 MY LIFE AS WEAPON NOW

$16.99

MAR

6,988

4

4.46

AVATAR LAST AIRBENDER TP VOL 04 SEARCH PART 1

$10.99

DAR

6,145

5

4.39

WALKING DEAD TP VOL 01 DAYS GONE BYE

$14.99

IMA

6,059

6

3.72

AVENGERS VS X-MEN TP

$34.99

MAR

5,130

7

3.70

KICK-ASS 2 TP (MR)

$19.99

MAR

5,102

8

3.44

KICK-ASS 2 PRELUDE HIT-GIRL PREM HC (MR)

$24.99

MAR

4,739

9

3.27

SAGA TP VOL 01

$9.99

IMA

4,515

10

2.55

EARTH 2 HC VOL 01 THE GATHERING (N52)

$22.99

DC

3,514

11

2.45

MASSIVE TP VOL 01 BLACK PACIFIC

$19.99

DAR

3,384

12

2.43

UNWRITTEN TP VOL 07 THE WOUND (MR)

$14.99

DC

3,356

13

2.36

ALL NEW X-MEN PREM HC VOL 01 YESTERDAYS X-MEN NOW

$24.99

MAR

3,257

14

2.35

WALKING DEAD TP VOL 02 MILES BEHIND US

$14.99

IMA

3,241

15

2.35

BATMAN GOTHAM BY GASLIGHT TP NEW ED

$12.99

DC

3,235

16

2.23

IRON MAN EXTREMIS HC

$24.99

MAR

3,073

17

2.23

STAR WARS CLONE WARS TP DEFENDERS LOST TEMPLE

$7.99

DAR

3,072

18

2.02

SPIDER-MAN DYING WISH PREM HC

$24.99

MAR

2,786

19

1.99

CARNAGE HC FAMILY FEUD

$24.99

MAR

2,749

20

1.96

AMERICAN VAMPIRE HC VOL 05 (MR)

$29.99

DC

2,706

21

1.91

RED LANTERNS TP VOL 02 DEATH OF RED LANTERNS (N52)

$16.99

DC

2,627

22

1.88

JOE THE BARBARIAN TP (MR)

$19.99

DC

2,593

23

1.87

AVENGERS SEASON ONE PREM HC

$24.99

MAR

2,577

24

1.86

DAREDEVIL BY MARK WAID TP VOL 03

$16.99

MAR

2,561

25

1.81

WALKING DEAD TP VOL 03 SAFETY BEHIND BARS

$14.99

IMA

2,497

26

1.75

WALKING DEAD TP VOL 17 SOMETHING TO FEAR (MR)

$14.99

IMA

2,415

27

1.71

SUPERIOR TP (MR)

$19.99

MAR

2,364

28

1.68

SECRET INVASION HC

$34.99

MAR

2,314

29

1.61

DEADPOOL CLASSIC TP VOL 08

$24.99

MAR

2,222

30

1.61

X-MEN CLAREMONT AND LEE OMNIBUS HC VOL 01

$125.00

MAR

2,215

31

1.57

GAMBIT TP VOL 01 ONCE A THIEF

$18.99

MAR

2,167

32

1.57

X-MEN FALL OF MUTANTS HC

$99.99

MAR

2,162

33

1.56

ALL STAR WESTERN TP VOL 02 LORDS & OWLS (N52)

$16.99

DC

2,157

34

1.51

WALKING DEAD TP VOL 04 HEARTS DESIRE

$14.99

IMA

2,084

35

1.48

TOWER CHRONICLES GN VOL 04 GEISTHAWK

$7.99

LEG

2,044

36

1.46

ADVENTURE TIME MATHEMATICAL ED HC VOL 01

$34.99

BOO

2,015

37

1.45

WOLVERINE AND X-MEN BY JASON AARON TP VOL 03 AVX

$16.99

MAR

2,001

38

1.44

SEVERED TP

$14.99

IMA

1,991

39

1.43

SHADE TP

$19.99

DC

1,969

40

1.41

X-STATIX OMNIBUS HC

$125.00

MAR

1,947

41

1.39

ADVENTURE TIME TP VOL 01

$14.99

BOO

1,918

42

1.35

X-MEN X-CUTIONERS SONG HC

$49.99

MAR

1,862

43

1.35

BLADE OF THE IMMORTAL TP VOL 26 BLIZZARD (MR)

$19.99

DAR

1,861

44

1.34

ARCHER & ARMSTRONG (NEW) TP VOL 01

$9.99

VAL

1,852

45

1.33

OZ MARVELOUS LAND OF OZ HC

$29.99

MAR

1,838

46

1.32

DOCTOR WHO 3 TP VOL 01 HYPOTHETICAL GENTLEMAN

$17.99

IDW

1,824

47

1.31

I VAMPIRE TP VOL 02 RISE OF THE VAMPIRES (N52)

$16.99

DC

1,808

48

1.30

WALKING DEAD TP VOL 05 BEST DEFENSE

$14.99

IMA

1,798

49

1.29

CROSSED TP VOL 05 (MR)

$24.99

AVA

1,785

50

1.25

NEMO HEART OF ICE HC

$14.95

TOP

1,727

51

1.25

MARVEL UNIVERSE VS AVENGERS TP

$16.99

MAR

1,724

52

1.24

INVINCIBLE IRON MAN TP VOL 10 LONG WAY DOWN

$16.99

MAR

1,703

53

1.22

WINTER SOLDIER TP VOL 03 BLACK WIDOW HUNT

$15.99

MAR

1,678

54

1.21

DAY OF JUDGMENT TP

$14.99

DC

1,674

55

1.18

FANTASTIC FOUR BY JOHN BYRNE OMNIBUS HC VOL 01

$125.00

MAR

1,631

56

1.18

SUPERMAN REIGN OF DOOMSDAY TP

$16.99

DC

1,623

57

1.14

WALKING DEAD COMPENDIUM TP VOL 01 (MR)

$59.99

IMA

1,574

58

1.13

SPIDER-MAN LIZARD TP NO TURNING BACK

$16.99

MAR

1,561

59

1.12

AVENGERS BY BRIAN MICHAEL BENDIS PREM HC VOL 01

$24.99

MAR

1,551

60

1.11

CHRONICLES OF CONAN TP VOL 23 WELL OF SOULS

$18.99

DAR

1,534

61

1.11

SIEGE HC

$39.99

MAR

1,527

62

1.10

SUPERMAN VS ZOD TP

$9.99

DC

1,521

63

1.07

SHOWCASE PRESENTS SGT ROCK TP VOL 04

$19.99

DC

1,471

64

1.06

ONE PIECE TP VOL 66

$9.99

VIZ

1,461

65

1.03

TMNT ANIMATED TP VOL 01

$7.99

IDW

1,427

66

1.03

BATMAN THE KILLING JOKE SPECIAL ED HC

$17.99

DC

1,416

67

1.01

MARVEL ZOMBIES DESTROY TP

$19.99

MAR

1,387

68

1.00

ROCKETEER CARGO OF DOOM HC

$24.99

IDW

1,384

69

1.00

CHEW OMNIVORE ED HC VOL 03 (MR)

$34.99

IMA

1,376

70

1.00

BATMAN DARK KNIGHT RETURNS TP

$19.99

DC

1,373

71

1.00

WALKING DEAD TP VOL 06 SORROWFUL LIFE (SEP088207)

$14.99

IMA

1,373

72

0.99

MIGHTY THOR BY MATT FRACTION TP VOL 03

$19.99

MAR

1,365

73

0.98

BATWING TP VOL 02 IN THE SHADOW OF ANCIENTS (N52)

$14.99

DC

1,358

74

0.97

TRIGUN MULTIPLE BULLETS TP

$13.99

DAR

1,332

75

0.95

AVENGERS VS X-MEN TP AVENGERS ACADEMY

$24.99

MAR

1,312

76

0.95

WALKING DEAD TP VOL 07 THE CALM BEFORE

$14.99

IMA

1,311

77

0.94

BATMAN HC THE NIGHT OF THE OWLS (N52)

$29.99

DC

1,303

78

0.93

ULTIMATE COMICS IRON MAN TP

$16.99

MAR

1,284

79

0.93

ALL NEW BATMAN BRAVE AND BOLD SMALL MIRACLES TP

$12.99

DC

1,282

80

0.93

BTVS SEASON 8 LIBRARY HC VOL 04

$29.99

DAR

1,280

81

0.93

MMW AMAZING SPIDER-MAN HC VOL 15

$69.99

MAR

1,278

82

0.91

EVOLUTIONARY WAR OMNIBUS HC GARBETT CVR

$74.99

MAR

1,260

83

0.91

SONIC SAGA TP VOL 02 ORDER FROM CHAOS

$11.99

ARC

1,251

84

0.89

WALKING DEAD COMPENDIUM TP VOL 02 (MR)

$59.99

IMA

1,228

85

0.89

MUSE DLX HC (MR)

$34.95

HUM

1,225

86

0.89

DEADPOOL HC VOL 01

$39.99

MAR

1,225

87

0.88

ROCKET RACCOON GUARDIAN PREM HC

$24.99

MAR

1,214

88

0.87

DEADPOOL MAX PREM HC NUTJOB (MR)

$24.99

MAR

1,194

89

0.86

DEADPOOL MAX INVOLUNTARY ARMAGEDDON PREM HC (MR)

$24.99

MAR

1,188

90

0.86

X-FORCE HC VOL 01

$34.99

MAR

1,183

91

0.85

ESSENTIAL CAPTAIN MARVEL TP VOL 02

$19.99

MAR

1,178

92

0.85

ROSARIO VAMPIRE SEASON II TP VOL 11

$9.99

VIZ

1,178

93

0.85

X-FACTOR TP VOL 19 SHORT STORIES

$15.99

MAR

1,166

94

0.84

WALKING DEAD TP VOL 08 MADE TO SUFFER (MR)

$14.99

IMA

1,162

95

0.83

ASTONISHING X-MEN TP VOL 11 WEAPONIZED

$16.99

MAR

1,151

96

0.83

WALKING DEAD TP VOL 16 A LARGER WORLD (MR)

$14.99

IMA

1,148

97

0.82

VAMPIRE KNIGHT TP VOL 16

$9.99

VIZ

1,130

98

0.82

BLOOD C GN VOL 01

$12.99

DAR

1,126

99

0.81

NEW AVENGERS BY BRIAN MICHAEL BENDIS PREM HC VOL 01

$24.99

MAR

1,122

100

0.80

SOUL EATER TP VOL 13

$11.99

HAC

1,105

101

0.79

GUARDIANS OF GALAXY TP VOL 02 TOMORROWS AVENGERS

$39.99

MAR

1,093

102

0.79

PEANUTS TP VOL 02

$13.99

BOO

1,090

103

0.79

STAR TREK TNG HIVE TP

$17.99

IDW

1,083

104

0.77

SLEEPER OMNIBUS HC (MR)

$75.00

DC

1,066

105

0.77

NO PLACE LIKE HOME TP VOL 01 (MR)

$9.99

IMA

1,059

106

0.76

STEVE DITKO MONSTERS HC VOL 01 GORGO

$34.99

IDW

1,054

107

0.76

AVENGERS INFINITY TP

$14.99

MAR

1,049

108

0.76

WOLVERINE ROT TP

$19.99

MAR

1,042

109

0.75

WATCHMEN TP

$19.99

DC

1,037

110

0.75

ATLANTIS ATTACKS OMNIBUS HC MAYHEW COVER

$75.00

MAR

1,033

111

0.74

SUPERMAN DEATH AND RETURN OF SUPERMAN OMNIBUS HC

$99.99

DC

1,027

112

0.74

STAR TREK ONGOING TP VOL 04

$17.99

IDW

1,027

113

0.74

TRANSFORMERS MORE THAN MEETS THE EYE TP VOL 03

$19.99

IDW

1,023

114

0.74

WALKING DEAD TP VOL 09 HERE WE REMAIN (MR)

$14.99

IMA

1,016

115

0.74

DEADPOOL AM SPIDER-MAN HULK IDENTITY WARS PREM HC

$19.99

MAR

1,014

116

0.73

MANHATTAN PROJECTS TP VOL 01 SCIENCE BAD

$14.99

IMA

1,004

117

0.73

BAKUMAN TP VOL 18

$9.99

VIZ

1,004

118

0.73

V FOR VENDETTA TP (MR)

$19.99

DC

1,000

119

0.72

DEADPOOL KILLS MARVEL UNIVERSE TP

$14.99

MAR

995

120

0.72

BATMAN HUSH COMPLETE TP

$24.99

DC

990

121

0.72

ADVENTURE TIME TP VOL 02

$14.99

BOO

987

122

0.72

TANK GIRL EVERYBODY LOVES TANK GIRL HC (MR)

$19.95

RAN

987

123

0.71

GFT MYTHS & LEGENDS TP VOL 05

$19.99

ZEN

978

124

0.71

PENNY ARCADE TP VOL 09 PASSIONS HOWL

$14.99

ONI

973

125

0.70

NAOKI URASAWA 21ST CENTURY BOYS GN VOL 02

$12.99

VIZ

972

126

0.70

DOOM 2099 COMPLETE COLLECTION BY WARREN ELLIS TP

$39.99

MAR

963

127

0.70

WALKING DEAD TP VOL 10 WHAT WE BECOME

$14.99

IMA

962

128

0.70

POKEMON ADVENTURES TP VOL 15

$9.99

VIZ

960

129

0.69

WOLVERINE BY JASON AARON OMNIBUS HC VOL 01

$99.99

MAR

955

130

0.69

TMNT ADVENTURES TP VOL 04

$19.99

IDW

948

131

0.68

SPIDER-MAN RETURN OF ANTI-VENOM PREM HC

$19.99

MAR

943

132

0.68

DOCTOR WHO FORGOTTEN HC

$24.99

IDW

938

133

0.67

VALIANT MASTERS NINJAK HC VOL 01 BLACK WATER

$24.99

VAL

930

134

0.66

DEADPOOL PREM HC VOL 03 X MARKS THE SPOT

$19.99

MAR

904

135

0.64

MARVEL ART OF JOE QUESADA HC

$49.99

MAR

885

136

0.64

WALKING DEAD TP VOL 15 WE FIND OURSELVES (MR)

$14.99

IMA

880

137

0.64

GFT SLEEPY HOLLOW TP (MR)

$12.99

ZEN

879

138

0.64

WILL EISNER LAST DAY IN VIETNAM MEMORY HC

$17.99

DAR

876

139

0.64

X-MEN AGE OF X HC

$29.99

MAR

876

140

0.63

ART OF SPIDER-MAN CLASSIC HC

$49.99

MAR

871

141

0.63

MARVEL UNIVERSE IRON MAN COMIC READER TP #1

$3.99

MAR

869

142

0.63

GUARDING THE GLOBE TP VOL 02

$16.99

IMA

868

143

0.63

TOKYO BABYLON GN VOL 01

$19.99

DAR

862

144

0.62

SUPERMAN EARTH ONE HC VOL 02

$22.99

DC

858

145

0.62

CAPTAIN AMERICA LIVES OMNIBUS HC

$75.00

MAR

856

146

0.62

MIGHTY THOR BY FRACTION PREM MOVIE HC VOL 01

$24.99

MAR

853

147

0.61

MARVEL UNIVERSE VS WOLVERINE HC

$19.99

MAR

841

148

0.61

WALKING DEAD TP VOL 14 NO WAY OUT (MR)

$14.99

IMA

839

149

0.61

WALKING DEAD TP VOL 11 FEAR THE HUNTERS (MR)

$14.99

IMA

838

150

0.60

DANGER GIRL GI JOE HC

$24.99

IDW

825

151

0.59

WONDER WOMAN AMAZON PRINCESS ARCHIVES HC VOL 01

$75.00

DC

820

152

0.59

SECRET AVENGERS BY RICK REMENDER PREM HC VOL 03

$24.99

MAR

820

153

0.59

WONDERFUL WIZARD OZ HC

$29.99

MAR

816

154

0.59

WALKING DEAD HC VOL 01 (MR)

$34.99

IMA

812

155

0.59

HUSBANDS HC (MR)

$14.99

DAR

810

156

0.59

WALKING DEAD TP VOL 13 TOO FAR GONE (MR)

$14.99

IMA

807

157

0.58

WALKING DEAD TP VOL 12 LIFE AMONG THEM

$14.99

IMA

803

158

0.58

X-MEN DARK PHOENIX SAGA HC

$74.99

MAR

802

159

0.58

ROY THOMAS PRESENTS PHANTOM LADY COLL WORKS HC VOL 01

$47.99

DIA

800

160

0.58

MOON KNIGHT BY BENDIS AND MALEEV PREM HC VOL 01

$24.99

MAR

798

161

0.58

JUDGE DREDD ORIGINS TP (MR)

$19.99

POC

798

162

0.57

SANDMAN TP VOL 01 PRELUDES & NOCTURNES NEW ED (MR)

$19.99

DC

791

163

0.57

X-MEN MANIFEST DESTINY HC

$29.99

MAR

789

164

0.57

BATMAN THE LONG HALLOWEEN TP

$24.99

DC

786

165

0.56

THOR AND LOKI HC BLOOD BROTHERS

$24.99

MAR

779

166

0.56

CIVIL WAR TP

$24.99

MAR

774

167

0.56

BARRAGE TP VOL 01

$9.99

VIZ

774

168

0.56

JUSTICE LEAGUE TP VOL 01 ORIGIN (N52)

$16.99

DC

771

169

0.56

REVIVAL TP VOL 01 YOU'RE AMONG FRIENDS

$12.99

IMA

768

170

0.55

ULTIMATE COMICS SPIDER-MAN PREM HC WORLD ACCORDING

$24.99

MAR

764

171

0.55

HOUSE OF M HC NO MORE MUTANTS

$39.99

MAR

760

172

0.55

ULTIMATE COMICS SPIDER-MAN DOSM FALLOUT PREM HC

$24.99

MAR

752

173

0.54

MMW GOLDEN AGE HUMAN TORCH TP VOL 01

$29.99

MAR

750

174

0.54

GODZILLA ONGOING TP VOL 02

$17.99

IDW

745

175

0.54

WOLVERINE OLD MAN LOGAN TP

$29.99

MAR

741

176

0.53

PUNISHERMAX PREM HC FRANK

$24.99

MAR

733

177

0.53

WIZARDS TALE TP

$19.99

IDW

731

178

0.53

BATMAN THE BLACK MIRROR TP

$16.99

DC

728

179

0.53

SUPERMAN RED SON TP

$17.99

DC

725

180

0.52

SABRINA THE TEENAGE WITCH MAGIC WITHIN TP VOL 01

$10.99

ARC

719

181

0.52

Y THE LAST MAN TP VOL 01 UNMANNED

$14.99

DC

716

182

0.52

POKEMON THE MOVIE KYUREM VS SWORD OF JUSTICE GN

$9.99

VIZ

716

183

0.52

GARTH ENNIS JENNIFER BLOOD TP VOL 03 (MR)

$19.99

DE

715

184

0.52

GHOSTBUSTERS ONGOING TP VOL 04 WHO YA GONNA CALL

$17.99

IDW

715

185

0.52

CHEW TP VOL 01 (MR)

$9.99

IMA

712

186

0.51

68 TP VOL 02 SCARS

$19.99

IMA

706

187

0.51

IT GIRL & ATOMICS ROUND ONE DARK STREETS SNAP CITY TP

$14.99

IMA

704

188

0.51

FABLES TP VOL 01 LEGENDS IN EXILE NEW ED (MR)

$12.99

DC

702

189

0.50

X-MEN WORLDS APART HC

$19.99

MAR

692

190

0.50

INVINCIBLE IRON MAN HC VOL 01

$39.99

MAR

688

191

0.50

JOHNNY HOMICIDAL MANIAC DIRECTORS CUT SC

$21.95

SLA

687

192

0.49

NEXUS OMNIBUS TP VOL 02

$24.99

DAR

682

193

0.49

X-MEN MUTANT MASSACRE HC

$39.99

MAR

682

194

0.49

PREACHER TP VOL 01 GONE TO TEXAS NEW EDITION

$17.99

DC

681

195

0.49

HAWKEN GENESIS HC

$19.95

ARA

677

196

0.49

ANGELIC LAYER TP BOOK 02

$19.99

DAR

671

197

0.48

CROW SPECIAL ED TP

$18.00

POC

665

198

0.48

FANTASTIC FOUR 1234 PREM HC

$19.99

MAR

663

199

0.48

ULTIMATE AVENGERS VS NEW ULTIMATES DOSM PREM HC

$24.99

MAR

658

200

0.48

WOLVERINE WOLVERINE VS X-MEN PREM HC

$19.99

MAR

657

201

0.47

JUSTICE LEAGUE HC VOL 02 THE VILLAINS JOURNEY

$24.99

DC

653

202

0.47

BATMAN YEAR ONE DELUXE SC

$14.99

DC

652

203

0.47

FANTASTIC FOUR BY JONATHAN HICKMAN PREM HC VOL 01

$19.99

MAR

648

204

0.47

ALICE I/T COUNTRY CLOVER CHESHIRE CAT WALTZ GN VOL 04 (MR) (

$13.99

ST.

648

205

0.47

X-23 PREM HC VOL 01 KILLING DREAM

$19.99

MAR

647

206

0.47

SECRET AVENGERS PREM HC MISSION TO MARS VOL 01

$24.99

MAR

643

207

0.47

JOHNNY BOO HC VOL 05 DOES SOMETHING

$9.95

TOP

642

208

0.46

UNAUTHORIZED TARZAN HC

$29.99

DAR

641

209

0.46

DURARARA SAIKA TP VOL 01

$11.99

HAC

636

210

0.46

WITCHBLADE RED SONJA TP

$19.99

DE

630

211

0.45

MICE TEMPLAR TP VOL 03

$17.99

IMA

626

212

0.45

GI JOE TARGET SNAKE EYES TP

$19.99

IDW

623

213

0.45

MARVEL ART OF MIKE DEODATO HC

$49.99

MAR

621

214

0.45

NEON GENESIS EVANGELION 3-IN-1 ED TP VOL 02

$19.99

VIZ

615

215

0.44

BATMAN EARTH ONE HC

$22.99

DC

609

216

0.44

DARK AVENGERS HC

$49.99

MAR

601

217

0.43

BLACKEST NIGHT TP

$19.99

DC

587

218

0.42

GI JOE A REAL AMERICAN HERO TP VOL 06

$19.99

IDW

582

219

0.42

HULK TP PLANET HULK

$34.99

MAR

581

220

0.42

DAREDEVIL REBORN PREM HC

$19.99

MAR

579

221

0.42

ARKHAM ASYLUM ANNIVERSARY ED SC (MR)

$17.99

DC

577

222

0.42

X-MEN X-TINCTION AGENDA HC

$49.99

MAR

577

223

0.42

ULTIMATE COMICS CAPTAIN AMERICA PREM HC

$19.99

MAR

576

224

0.42

FABLES TP VOL 18 CUBS IN TOYLAND (MR)

$16.99

DC

573

225

0.41

DAREDEVIL ECHO PREM HC PARTS OF A HOLE

$24.99

MAR

572

226

0.41

WOLVERINE WOLVERINES REVENGE PREM HC

$24.99

MAR

570

227

0.41

SPIDER-MAN FANTASTIC SPIDER-MAN PREM HC

$24.99

MAR

569

228

0.41

LIST HC

$29.99

MAR

564

229

0.41

MARVEL ART OF MARKO DJURDJEVIC HC

$49.99

MAR

562

230

0.41

POPEYE TP VOL 02

$17.99

IDW

561

231

0.40

X-MEN INFERNO CROSSOVERS HC

$75.00

MAR

558

232

0.40

X-MEN DAYS OF FUTURE PAST TP

$19.99

MAR

556

233

0.40

RIN-NE GN VOL 11

$9.99

VIZ

552

234

0.40

CIVIL WAR X-MEN HC

$39.99

MAR

545

235

0.39

MAXIMUM MINIMUM WAGE HC

$34.99

IMA

542

236

0.39

ULTIMATE COMICS DOOMSDAY HC

$39.99

MAR

541

237

0.39

RIPD TP VOL 01 2ND ED

$12.99

DAR

539

238

0.39

COMPLETE PEANUTS HC VOL 19 1987-1988

$28.99

FAN

533

239

0.39

SECRET WARRIORS PREM HC VOL 01 NICK FURY AGENT OF NOTHING

$19.99

MAR

531

240

0.38

SHIELD NICK FURY VS SHIELD PREM HC

$39.99

MAR

530

241

0.38

VAGABOND TP VOL 34 (MR)

$9.95

VIZ

527

242

0.38

FULLMETAL ALCHEMIST 3-IN-1 ED TP VOL 04

$14.99

VIZ

520

243

0.38

KINGDOM COME TP NEW EDITION

$17.99

DC

519

244

0.37

PROPHET TP VOL 01 REMISSION

$9.99

IMA

516

245

0.37

HIGURASHI WHEN THEY CRY GN VOL 21 MASSACRE ARC PT 3 (NOTE PR

$18.99

HAC

509

246

0.37

FATALE TP VOL 01 DEATH CHASES ME (MR)

$14.99

IMA

509

247

0.37

HULK HULK NO MORE HC

$39.99

MAR

509

248

0.37

SHADOWLAND PREM HC

$24.99

MAR

507

249

0.37

IRON MAN NOIR PREM HC

$19.99

MAR

505

250

0.36

WALKING DEAD HC VOL 02 (MR)

$34.99

IMA

502

251

0.36

BOMB QUEEN DLX ED HC VOL 01 (MR)

$24.99

IMA

497

252

0.36

SUPERMAN EARTH ONE HC VOL 01

$19.99

DC

496

253

0.36

TIMELY ANNUALS 70TH ANNIV COLLECTION HC

$39.99

MAR

495

254

0.36

SPIDER-MAN SHORT HALLOWEEN PREM HC

$19.99

MAR

493

255

0.35

BAD MACHINERY GN VOL 01 CASE O/T TEAM SPIRIT

$19.99

ONI

486

256

0.35

X-MEN PRELUDE TO SCHISM PREM HC

$19.99

MAR

484

257

0.35

FANTASTIC FOUR PREM HC OVERTHROW OF DOOM

$29.99

MAR

483

258

0.35

FANTASTIC FOUR IN SEARCH OF GALACTUS PREM HC

$29.99

MAR

480

259

0.35

CHEW TP VOL 06 SPACE CAKES (MR)

$14.99

IMA

478

260

0.35

ZOMBIES CHRISTMAS CAROL HC

$24.99

MAR

477

261

0.34

MARVELS EYE OF CAMERA PREM HC

$24.99

MAR

475

262

0.34

SPAWN ORIGINS HC VOL 08

$29.99

IMA

470

263

0.34

MIGHTY AVENGERS HC CHO CVR

$34.99

MAR

467

264

0.34

LOCKE & KEY TP VOL 02 HEAD GAMES

$19.99

IDW

466

265

0.34

PHANTOM COMP DAILIES HC VOL 05 1943-1944

$49.99

HER

465

266

0.34

PUNISHER WAR ZONE PREM HC RESURRECTION MA GNUCCI

$24.99

MAR

465

267

0.33

CROW DEATH AND REBIRTH HC