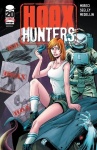 Quality Transmedia has optioned feature film rights for the Image comic Hoax Hunters, according to Hollywood Reporter. The Image comic, by Michael Moreci and Steve Seeley, tells the story of paranormal investigators who appear to be debunking hoaxes but are actually covering up the truth.

One trade paperback collection, Hoax Hunters Vol. 1: Murder, Death, and the Devil, has been released.

Quality has also licensed motion comic and live action TV series rights to Peter Panzerfaust (see "'Peter Panzerfaust' Motion Comic").