We took in C2E2 on Friday again this year, and continue to be impressed with the scale of the McCormick Place facility and the ambition with which ReedPOP is using it. The aisles are huge, the exhibit hall is a simple rectangle with generous dimensions, and the ability to absorb crowds substantial. We had more than one conversation with exhibitors at C2E2 about the constraints the Javits Center places on ReedPOP'ss New York show, New York Comic Con, and how great it would be if the Javits was a McCormick Place in New York.

This is the fourth year of ReedPOP's Chicago show, and it was coming off a big year last year with attendance of around 42,000, up over 20% vs. the previous year (see "Lance Fensterman on C2E2 Year 3"). The run-up to 2013 was also very positive; as of two months out, pre-registrations were up 64% and exhibit space was up 25%.

Since we were there on Friday, we don't have a lot of perspective on the over-all sales on the floor, but one of our bellwether exhibitors, who does a lot of shows, said they were at 1/2 of their goal for the show by mid-afternoon Friday, indicating that attendees were buying. Another, a publisher with a limited number of releases, had sold all of his inventory by late Friday.

As usual on Fridays at C2E2, the aisles weren't full and many attendees were retailers (who wrapped up the Diamond Summit before the show), pros, and press. But the fans were also turning out, and cosplayers were abundant.

DOA's Kasumi and Ms. Marvel seemed ready for anything.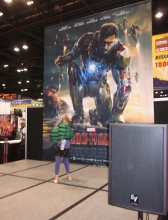 Marvel was emphasizing
Iron Man 3
with its booth dress, but the tyke taking advantage of the photo op picked out the Hulk hands that were BIGGER THAN HER HEAD!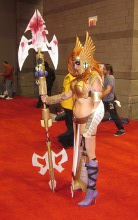 Angela, the angelic bounty hunter, was on hand and getting ready for her Marvel debut!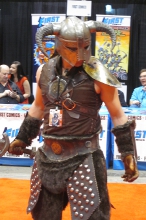 This menacing warrior stood his ground in front of the First Comics booth.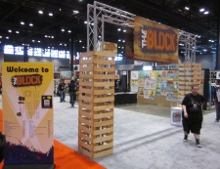 Reed created a new section of the exhibit floor, The Block, to showcase "fashion, collectible designer toys, art and illustration, independent magazine publications, animation, tech and entertainment."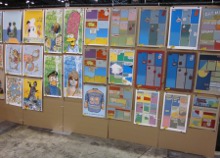 Fugscreens, displaying silkscreen prints, was one of the exhibitors in The Block.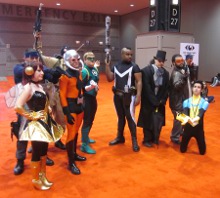 Here's an eclectic cosplay grouping if we ever saw one--(L to R)The Wasp, Snake, Ant-Man, a Ghostbuster, Green Lantern, Bishop, the Penguin, Blade and Invincible.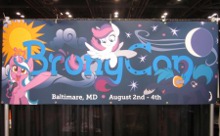 We cracked up at this booth, not because of the BronyCon, which seems like a great idea, but because of the clever location listed.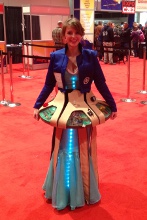 This lovely young lady was showing off the latest in Tardis console fashion wear.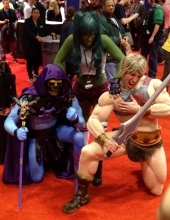 Skeletor and He-Man are joined by the savage She-Hulk!
Click here for
Part 2
, or click here for
Part 3
.