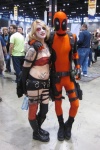 Here is the second batch of our photos from C2E2 on Friday.

Harley Quinn and Deadpool, cruising around Artists Alley.














Two long-time exhibitors at Chicago comic conventions, Jamie Graham of Graham Cracker Comics in the Chicago metropolitan area and Dave Kapelka of North Coast Nostalgia in Parma, Ohio, share a moment surrounded by some great-looking comics. Our favorite quote? Jamie says "I start every day with ICv2!"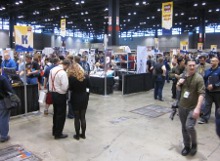 As seems to be the case at all the shows we go to, even at a lightly trafficked hour such as late in the day on Friday, Artists Alley was rocking.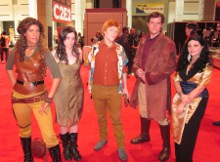 It's a
Firefly
reunion!
Crow T. Robot of
MST3K
fame getting a lift.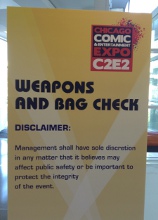 Security was tighter at the show than in years past, with a bag search on the way into the show...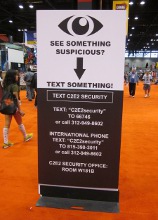 ...and signs giving attendees a way to communicate suspicious activity.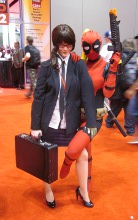 Lady Deadpool hanging out with a friend.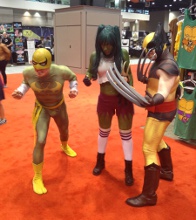 Iron First, She-Hulk, and Wolverine square off against the crowd.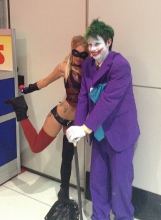 The Joker was all smiles with his gal pal Harley Quinn.
Click here for
Part 3
, or click here for
Part 1
.