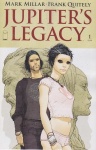 Jupiter's Legacy
#1, the Mark Millar-Frank Quitely superhero crossover under the Image Comics imprint (announced as
Jupiter's Children
, see "
Millar-Quitely Magnum Opus
"), debuted as the #3 comic in comic shops in April, according to rankings released by Diamond Comic Distributors. It was topped only by
Thanos Rising
#1 from Marvel at #2 and DC's
Batman
#19 at #1.
Image had a great month for a non-Big Two publisher in April, placing a second title (
Walking Dead
) in the Top Ten Comics and dominating graphic novels with the top four books (in order,
Walking Dead
Vol. 1,
The Manhattan Projects
Vol. 2,
Happy
, and
Saga
Vol. 1). Image had a 9.04% share in April.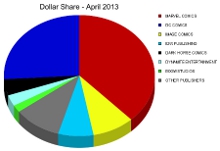 Marvel was the big winner in the month, with a 37.95% share, far above DC's 25.98% share. IDW Publishing approached 8% with a 7.54% share.
April's sales were up 14.18% overall vs. April 2012, combining a 13.87% growth rate in comics and 14.83% in graphic novels. That's actually a below average month this year; the year-to-date growth rate over-all is 18.32%.
For an overview and analysis of comic sales in April, see "
An Image #1 Tops 100K
."