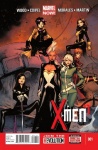 These are estimates of the sales on comic books by Diamond
U.S.
to comic specialty stores during May 2013.

For an overview and analysis of comic sales in May, see "'X-Men' #1 Tops 177,000."
For an analysis of the dollar trends in May, see "'Adventure Time' is #1 GN in May."

For our estimates of actual sales by Diamond U.S. from comic specialty stores on graphic novels shipped during May, see "Top 300 Graphic Novels Actual--May 2013."

TOP 300 COMICS -- May 2013

Rank

Index

Title

Price

Pub

Est.Qty

1

137.66

X-MEN #1

$3.99

MAR

177,633

2

100.00

BATMAN #20

$3.99

DC

129,039

3

75.69

JUSTICE LEAGUE #20

$3.99

DC

97,676

4

74.91

AGE OF ULTRON #7

$3.99

MAR

96,664

5

74.03

AGE OF ULTRON #8

$3.99

MAR

95,522

6

72.58

SUPERIOR SPIDER-MAN #9

$3.99

MAR

93,656

7

66.14

SUPERIOR SPIDER-MAN #10

$3.99

MAR

85,346

8

64.54

JUSTICE LEAGUE OF AMERICA #3

$3.99

DC

83,283

9

62.45

ALL NEW X-MEN #11

$3.99

MAR

80,582

10

60.64

DETECTIVE COMICS #20

$3.99

DC

78,252

11

60.45

IRON MAN #9

$3.99

MAR

78,006

12

60.34

JUSTICE LEAGUE OF AMERICA #4

$3.99

DC

77,856

13

59.25

WALKING DEAD #110 (MR)

$2.99

IMA

76,455

14

58.63

UNCANNY AVENGERS #8

$3.99

MAR

75,655

15

58.10

AVENGERS #12

$3.99

MAR

74,978

16

57.05

UNCANNY X-MEN #6

$3.99

MAR

73,621

17

56.20

UNCANNY AVENGERS #8AU

$3.99

MAR

72,514

18

54.78

AVENGERS #11

$3.99

MAR

70,687

19

52.24

GREEN LANTERN #20

$7.99

DC

67,414

20

52.13

THANOS RISING #2

$3.99

MAR

67,262

21

50.54

BATMAN AND RED HOOD #20

$2.99

DC

65,222

22

46.00

NEW AVENGERS #6

$3.99

MAR

59,362

23

44.40

BATMAN INCORPORATED #11

$2.99

DC

57,298

24

44.34

TEN GRAND #1 (MR) [*]

$2.99

IMA

57,216

25

41.39

AQUAMAN #19

$2.99

DC

53,415

26

39.75

DEADPOOL #9

$2.99

MAR

51,296

27

39.11

DEADPOOL #10

$2.99

MAR

50,461

28

39.08

BATMAN THE DARK KNIGHT #20

$2.99

DC

50,423

29

38.71

INDESTRUCTIBLE HULK #7

$3.99

MAR

49,956

30

38.51

AQUAMAN #20

$2.99

DC

49,697

31

38.46

WOLVERINE #3

$3.99

MAR

49,629

32

37.87

INDESTRUCTIBLE HULK #8

$3.99

MAR

48,866

33

37.68

THOR GOD OF THUNDER #8

$3.99

MAR

48,622

34

37.45

ACTION COMICS #20

$3.99

DC

48,324

35

36.99

UNCANNY X-FORCE #4

$3.99

MAR

47,727

36

35.40

UNCANNY X-FORCE #5

$3.99

MAR

45,674

37

35.23

SUPERMAN #20

$2.99

DC

45,458

38

35.20

IRON MAN #10

$3.99

MAR

45,424

39

34.90

NIGHTWING #20

$2.99

DC

45,038

40

34.77

WAKE #1 (MR)

$2.99

DC

44,867

41

34.34

STAR WARS #5

$2.99

DAR

44,310

42

34.12

CAPTAIN AMERICA #7

$3.99

MAR

44,024

43

34.09

EARTH 2 #12

$2.99

DC

43,983

44

33.46

BATMAN THE DARK KNIGHT ANNUAL #1

$4.99

DC

43,175

45

33.34

GREEN LANTERN CORPS #20

$2.99

DC

43,026

46

33.01

BATGIRL #20

$2.99

DC

42,600

47

32.80

SAVAGE WOLVERINE #5

$3.99

MAR

42,328

48

32.62

HAWKEYE #10

$2.99

MAR

42,090

49

32.03

EARTH 2 ANNUAL #1

$4.99

DC

41,325

50

31.44

GREEN LANTERN NEW GUARDIANS #20

$2.99

DC

40,569

51

31.35

WOLVERINE AND X-MEN #29

$3.99

MAR

40,451

52

31.01

WOLVERINE AND X-MEN #30

$3.99

MAR

40,019

53

30.83

DAREDEVIL #26

$3.99

MAR

39,788

54

30.74

FLASH #20

$2.99

DC

39,667

55

30.26

CABLE AND X-FORCE #8

$3.99

MAR

39,041

56

29.81

REGULAR SHOW #1

$3.99

BOO

38,466

57

29.57

NOVA #4

$3.99

MAR

38,151

58

28.91

FANTASTIC FOUR #8

$2.99

MAR

37,309

59

28.78

WONDER WOMAN #20

$2.99

DC

37,132

60

28.20

TEEN TITANS #20

$2.99

DC

36,391

61

27.57

ULTIMATE COMICS SPIDER-MAN #23

$3.99

MAR

35,581

62

26.77

RED HOOD AND THE OUTLAWS #20

$2.99

DC

34,542

63

26.51

AVENGERS ENEMY WITHIN #1

$2.99

MAR

34,205

64

26.29

RED LANTERNS #20

$2.99

DC

33,923

65

25.91

SECRET AVENGERS #4

$3.99

MAR

33,428

66

25.72

AVENGERS ASSEMBLE #15AU

$3.99

MAR

33,183

67

25.46

THUNDERBOLTS #9

$2.99

MAR

32,855

68

24.94

MY LITTLE PONY FRIENDSHIP IS MAGIC #7

$3.99

IDW

32,188

69

24.92

YOUNG AVENGERS #5

$2.99

MAR

32,159

70

24.02

ADVENTURES OF SUPERMAN #1

$3.99

DC

30,992

71

23.99

FF #7

$2.99

MAR

30,960

72

23.37

RED HOOD AND THE OUTLAWS ANNUAL #1

$4.99

DC

30,157

73

23.01

BATWOMAN #20

$2.99

DC

29,698

74

22.66

MOVEMENT #1

$2.99

DC

29,246

75

22.56

CONSTANTINE #3

$2.99

DC

29,106

76

21.67

A PLUS X #8

$3.99

MAR

27,967

77

21.52

GREEN TEAM #1

$2.99

DC

27,775

78

21.51

TMNT ONGOING #22

$3.99

IDW

27,759

79

21.40

AVENGING SPIDER-MAN #20

$3.99

MAR

27,609

80

21.34

GREEN ARROW #20

$2.99

DC

27,541

81

21.32

SUPERGIRL #20

$2.99

DC

27,509

82

21.19

SWAMP THING #20

$2.99

DC

27,338

83

21.12

AVENGING SPIDER-MAN #21

$3.99

MAR

27,251

84

20.98

WORLDS FINEST #12

$2.99

DC

27,073

85

20.84

CATWOMAN #20

$2.99

DC

26,886

86

20.83

AVENGERS ARENA #9

$2.99

MAR

26,873

87

20.08

X-MEN LEGACY #10

$2.99

MAR

25,911

88

20.00

ANIMAL MAN #20

$2.99

DC

25,807

89

19.54

INJUSTICE GODS AMONG US #5

$3.99

DC

25,215

90

19.54

CHARISMAGIC VOL 2 #1

$1.00

ASP

25,212

91

19.41

X-MEN LEGACY #11

$2.99

MAR

25,048

92

19.36

FEARLESS DEFENDERS #4AU

$3.99

MAR

24,984

93

19.14

JUSTICE LEAGUE DARK #20

$2.99

DC

24,693

94

18.82

SCARLET SPIDER #17

$2.99

MAR

24,288

95

18.80

BOUNCE #1 (MR)

$2.99

IMA

24,259

96

18.78

CATWOMAN ANNUAL #1

$4.99

DC

24,228

97

18.69

ASTONISHING X-MEN #62

$3.99

MAR

24,121

98

18.42

SESAME STREET #1

$3.99

APE

23,765

99

18.24

SUICIDE SQUAD #20

$2.99

DC

23,537

100

18.19

IRON MAN #258.1

$3.99

MAR

23,478

101

17.60

TALON #8

$2.99

DC

22,710

102

17.44

SUPERBOY #20

$2.99

DC

22,508

103

17.43

MY LITTLE PONY MICRO SERIES #4 FLUTTERSHY

$3.99

IDW

22,489

104

17.35

CHIN MUSIC #1 (MR) [*]

$2.99

IMA

22,383

105

16.82

BTVS SEASON 9 FREEFALL #21

$2.99

DAR

21,701

106

16.78

ADVENTURE TIME #16

$3.99

BOO

21,659

107

16.77

ADVENTURE TIME FIONNA & CAKE #5

$3.99

BOO

21,646

108

16.73

VENOM #35

$2.99

MAR

21,591

109

16.61

ULTIMATE COMICS ULTIMATES #24

$3.99

MAR

21,429

110

16.37

BIRDS OF PREY #20

$2.99

DC

21,126

111

16.30

IRON MAN #258.2

$3.99

MAR

21,027

112

16.25

ADVENTURE TIME ANNUAL #1

$4.99

BOO

20,975

113

16.01

FEARLESS DEFENDERS #4

$2.99

MAR

20,657

114

15.97

X-FACTOR #256

$2.99

MAR

20,602

115

15.89

SEX #3 (MR)

$2.99

IMA

20,509

116

15.84

IRON MAN #258.3

$3.99

MAR

20,445

117

15.84

X-FACTOR #255

$2.99

MAR

20,442

118

15.75

ULTIMATE COMICS X-MEN #26

$3.99

MAR

20,330

119

15.04

HE MAN AND THE MASTERS OF THE UNIVERSE #2

$2.99

DC

19,410

120

14.81

GAMBIT #12

$2.99

MAR

19,106

121

14.61

GAMBIT #13

$2.99

MAR

18,854

122

14.39

BATMAN LIL GOTHAM #2

$2.99

DC

18,573

123

14.34

ULTIMATE COMICS WOLVERINE #4

$3.99

MAR

18,498

124

14.25

IRON MAN #258.4

$3.99

MAR

18,393

125

14.13

WOLVERINE MAX #7 (MR)

$3.99

MAR

18,239

126

14.04

WINTER SOLDIER #18

$2.99

MAR

18,120

127

13.61

FATALE #14 (MR)

$3.50

IMA

17,557

128

13.27

LEGENDS OF THE DARK KNIGHT #8

$3.99

DC

17,126

129

13.13

THIEF OF THIEVES #14 (MR)

$2.99

IMA

16,938

130

13.08

JOURNEY INTO MYSTERY #652

$2.99

MAR

16,873

131

12.79

SPAWN #231

$2.99

IMA

16,502

132

12.78

STAR WARS LEGACY #3

$2.99

DAR

16,497

133

12.65

BLACK BAT #1

$3.99

DE

16,328

134

12.64

REVIVAL #10

$2.99

IMA

16,314

135

12.61

PHANTOM STRANGER #8

$2.99

DC

16,269

136

12.54

ALL STAR WESTERN #20

$3.99

DC

16,184

137

12.48

UBER #1 (MR)

$3.99

AVA

16,109

138

12.33

DARK AVENGERS #190

$2.99

MAR

15,905

139

12.30

IRON MAN COMING OF MELTER #1

$3.99

MAR

15,871

140

12.26

BATMAN BEYOND UNLIMITED #16

$3.99

DC

15,822

141

12.10

NOWHERE MEN #5

$2.99

IMA

15,608

142

12.04

LEGION OF SUPER HEROES #20

$2.99

DC

15,532

143

11.98

GRIMM #1

$3.99

DE

15,455

144

11.98

HARBINGER WARS #2 REG HENRY

$3.99

VAL

15,455

145

11.97

SMALLVILLE SEASON 11 #13

$3.99

DC

15,442

146

11.92

FABLES #129 (MR)

$2.99

DC

15,380

147

11.87

STAR WARS DARTH VADER & NINTH ASSASSIN #2

$3.50

DAR

15,322

148

11.82

IMAGE FIRSTS WALKING DEAD #1 (MR)

$1.00

IMA

15,254

149

11.66

MORBIUS LIVING VAMPIRE #5

$2.99

MAR

15,042

150

11.60

JUSTICE LEAGUE OF AMERICAS VIBE #4

$2.99

DC

14,970

151

11.59

FAIREST #15 (MR)

$2.99

DC

14,959

152

11.47

KATANA #4

$2.99

DC

14,804

153

11.13

BATTLESTAR GALACTICA #1 (MR)

$3.99

DE

14,356

154

10.89

BATMAN ARKHAM UNHINGED #14

$3.99

DC

14,048

155

10.88

RED SHE-HULK #65

$2.99

MAR

14,044

156

10.87

DREAM MERCHANT #1 (MR)

$3.50

IMA

14,024

157

10.84

SMALLVILLE SEASON 11 SPECIAL #1

$4.99

DC

13,988

158

10.77

ANGEL & FAITH #22

$2.99

DAR

13,895

159

10.31

X-O MANOWAR #13

$3.99

VAL

13,305

160

10.31

STAR WARS DAWN O/T JEDI PRISONER OF BOGAN #5 (RES)

$2.99

DAR

13,304

161

10.31

BATWING #20

$2.99

DC

13,302

162

10.19

FIVE GHOSTS HAUNTING OF FABIAN GRAY #3

$2.99

IMA

13,153

163

10.15

DOCTOR WHO PRISONERS OF TIME #5

$3.99

IDW

13,097

164

10.11

STORMWATCH #20

$2.99

DC

13,049

165

10.10

SHADOW YEAR ONE #3

$3.99

DE

13,035

166

9.97

MORNING GLORIES #27 (MR)

$3.99

IMA

12,861

167

9.95

CHEW #34 (MR)

$2.99

IMA

12,836

168

9.84

FURY MAX #12 (MR)

$3.99

MAR

12,694

169

9.83

CONAN THE BARBARIAN #16

$3.50

DAR

12,682

170

9.81

MASKS #7

$3.99

DE

12,658

171

9.74

HARBINGER #12 HARBINGER WARS REG REEDER

$3.99

VAL

12,572

172

9.74

KING CONAN HOUR O/T DRAGON #1

$3.50

DAR

12,566

173

9.59

DIAL H #12

$2.99

DC

12,381

174

9.49

SHADOWMAN #0 PULLBOX EVANS

$3.99

VAL

12,252

175

9.47

RAVAGERS #12

$2.99

DC

12,221

176

9.45

DEMON KNIGHTS #20

$2.99

DC

12,195

177

9.42

SONIC THE HEDGEHOG #248

$2.99

ARC

12,158

178

9.41

STAR WARS DARK TIMES FIRE CARRIER #4

$2.99

DAR

12,138

179

9.36

ARCHER & ARMSTRONG #0 REG HENRY

$3.99

VAL

12,076

180

9.34

STAR TREK ONGOING #21 AFTER DARKNESS PT 1

$3.99

IDW

12,055

181

9.30

AME COMI GIRLS #3

$3.99

DC

12,007

182

9.29

DOCTOR WHO VOL 3 #9

$3.99

IDW

11,993

183

9.17

12 REASONS TO DIE #1

$3.50

BLA

11,834

184

9.12

DEATHSTROKE #20

$2.99

DC

11,768

185

8.91

SONIC UNIVERSE #52

$2.99

ARC

11,500

186

8.89

SHADOW #13

$3.99

DE

11,474

187

8.87

POWERS BUREAU #4 (MR)

$3.95

MAR

11,441

188

8.80

TMNT VILLAIN MICROSERIES #2 BAXTER STOCKMAN

$3.99

IDW

11,360

189

8.79

SONIC THE HEDGEHOG #249

$2.99

ARC

11,339

190

8.76

MISS FURY #2

$3.99

DE

11,306

191

8.69

THRESHOLD #5

$3.99

DC

11,209

192

8.64

BLOODSHOT #11

$3.99

VAL

11,146

193

8.61

SAVAGE HAWKMAN #20

$2.99

DC

11,104

194

8.60

INVINCIBLE UNIVERSE #2

$2.99

IMA

11,102

195

8.58

X #1 (MR)

$2.99

DAR

11,071

196

8.46

SUICIDE RISK #1

$3.99

BOO

10,913

197

8.41

BPRD VAMPIRE #3

$3.50

DAR

10,849

198

8.37

TEAM 7 #8

$2.99

DC

10,805

199

8.37

CLIVE BARKER NEXT TESTAMENT #1 (MR)

$3.99

BOO

10,797

200

8.27

SWORD OF SORCERY #8

$3.99

DC

10,677

201

8.14

STAR TREK ONGOING #20

$3.99

IDW

10,508

202

8.13

BPRD HELL ON EARTH #107 WASTELAND #1

$3.50

DAR

10,493

203

8.09

ABE SAPIEN DARK & TERRIBLE #2

$3.50

DAR

10,445

204

8.08

ALPHA BIG TIME #4

$2.99

MAR

10,422

205

7.93

FURY OF FIRESTORM THE NUCLEAR MAN #20

$2.99

DC

10,235

206

7.93

DOOMSDAY.1 #1

$3.99

IDW

10,230

207

7.84

HELHEIM #3 (MR)

$3.99

ONI

10,118

208

7.79

JUDGE DREDD #7

$3.99

IDW

10,058

209

7.76

ARROW #7

$3.99

DC

10,017

210

7.76

JSA LIBERTY FILES THE WHISTLING SKULL #6

$2.99

DC

10,017

211

7.76

MARK WAID GREEN HORNET #2

$3.99

DE

10,012

212

7.66

GI JOE #4

$3.99

IDW

9,881

213

7.63

LOBSTER JOHNSON SATAN SMELLS A RAT ONE SHOT

$3.50

DAR

9,846

214

7.56

LOST VEGAS #3

$3.50

IMA

9,755

215

7.54

GFT WONDERLAND DOWN RABBIT HOLE #1 (MR)

$2.99

ZEN

9,734

216

7.39

TRANSFORMERS ROBOTS IN DISGUISE #17

$3.99

IDW

9,540

217

7.38

TRANSFORMERS MORE THAN MEETS EYE #17

$3.99

IDW

9,523

218

7.35

MASSIVE #12

$3.50

DAR

9,489

219

7.23

TRANSFORMERS REGENERATION ONE #91

$3.99

IDW

9,332

220

7.12

MEGA MAN #25

$2.99

ARC

9,191

221

7.10

INJUSTICE GODS AMONG US #1 3RD PTG

$3.99

DC

9,162

222

6.99

LEGEND OF LUTHER STRODE #5 (MR)

$3.50

IMA

9,020

223

6.96

OCCUPY COMICS #1

$3.50

BLA

8,977

224

6.96

TRANSFORMERS PRIME BEAST HUNTERS #1

$3.99

IDW

8,975

225

6.89

ROCKETEER HOLLYWOOD HORROR #4

$3.99

IDW

8,885

226

6.79

IMAGE FIRSTS PETER PANZERFAUST #1 (MR)

$1.00

IMA

8,756

227

6.65

SNAPSHOT #4

$2.99

IMA

8,583

228

6.58

GI JOE SPECIAL MISSIONS #3

$3.99

IDW

8,492

229

6.56

GAME OF THRONES #14 (MR)

$3.99

DE

8,468

230

6.53

IMAGE FIRSTS INVINCIBLE #1 (MR)

$1.00

IMA

8,424

231

6.49

TRANSFORMERS SPOTLIGHT HOIST #1

$3.99

IDW

8,373

232

6.47

WARLORD OF MARS #24 (MR)

$3.99

DE

8,347

233

6.39

GFT ROBYN HOOD WANTED #1 (MR)

$2.99

ZEN

8,242

234

6.38

UNWRITTEN #49 (MR)

$2.99

DC

8,234

235

6.33

DANGER GIRL TRINITY #2

$3.99

IDW

8,167

236

6.31

BRAVEST WARRIORS #8

$3.99

BOO

8,146

237

6.27

IMAGE FIRSTS SAGA #1 (MR)

$1.00

IMA

8,091

238

6.14

DREAM THIEF #1

$3.99

DAR

7,927

239

6.12

CROSSED BADLANDS #28 (MR)

$3.99

AVA

7,891

240

6.10

GHOSTBUSTERS #4

$3.99

IDW

7,876

241

6.02

GI JOE COBRA FILES #2

$3.99

IDW

7,769

242

5.99

WARLORD OF MARS #25 (MR)

$3.99

DE

7,731

243

5.93

EDGAR ALLAN POES FALL O/T HOUSE OF USHER #1

$3.99

DAR

7,650

244

5.89

CROSSED BADLANDS #29 (MR)

$3.99

AVA

7,595

245

5.88

MIND THE GAP #10

$2.99

IMA

7,584

246

5.85

GI JOE A REAL AMERICAN HERO #190

$3.99

IDW

7,550

247

5.75

WITCHBLADE #166

$2.99

IMA

7,425

248

5.48

RED SONJA #75

$3.99

DE

7,072

249

5.46

HALF PAST DANGER #1

$3.99

IDW

7,048

250

5.39

POLARITY #2

$3.99

BOO

6,957

251

5.39

CLONE #7

$2.99

IMA

6,956

252

5.39

SIMPSONS COMICS #202

$2.99

BON

6,950

253

5.37

SPONGEBOB COMICS #20

$2.99

UNI

6,926

254

5.27

TAROT WITCH OF THE BLACK ROSE #80 (MR)

$2.95

BRO

6,795

255

5.26

GODZILLA ONGOING #12

$3.99

IDW

6,782

256

5.21

WARLORD OF MARS DEJAH THORIS #25 (MR)

$3.99

DE

6,724

257

5.14

HOUSE OF GOLD & BONES #2

$3.99

DAR

6,635

258

5.14

VAMPIRELLA STRIKES #5

$3.99

DE

6,632

259

5.09

DAMSELS MERMAIDS #1

$3.99

DE

6,564

260

5.04

GFT GRIMM FAIRY TALES #85 (MR)

$5.99

ZEN

6,499

261

4.99

INJUSTICE GODS AMONG US #2 3RD PTG

$3.99

DC

6,438

262

4.91

GFT WONDERLAND #11(MR)

$2.99

ZEN

6,342

263

4.89

PATHFINDER #7

$3.99

DE

6,313

264

4.87

KISS SOLO #3 THE CELESTIAL

$3.99

IDW

6,283

265

4.83

FUTURAMA COMICS #67

$2.99

BON

6,230

266

4.70

VAMPIRELLA #29

$3.99

DE

6,070

267

4.66

47 RONIN #4

$3.99

DAR

6,017

268

4.62

AVENGERS #1

$3.99

MAR

5,963

269

4.58

JIRNI #2

$3.99

ASP

5,915

270