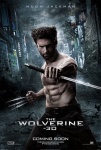 A new international trailer for
The Wolverine
has popped up (in English, but also subtitled). Though remarkably similar in length (2:27 vs 2:33) to the trailer released last month (see "
Yukio, Silver Samurai Featured in New 'Wolverine' Trailer
") the content differs. There is no 30 seconds of Jean Grey flashback, and in its place is more sword-fighting action (Wolverine actually contemplates being called a ronin) and more Svetlana Khodchenkova as Viper. There is also a bit of a spoiler, a hint in the dialog about Shingen Yashida's real motives for helping Wolverine cure his immortality.
The Wolverine
will open in theaters on July 26th.