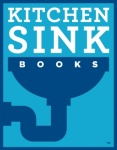 Kitchen Sink Books, the newly formed company of famed cartoonist, editor, and publisher Denis Kitchen and book designer/editor John Lind, will become a new imprint at Dark Horse Comics as a joint venture of the companies. The new imprint will release four to six large-format art books, archival reprints, and original graphic novels a year.
Kitchen and Lind's previous company, Kitchen, Lind & Associates, packaged numerous award-winning and nominated books for Abrams, Chronicle, Disney/Hyperion, Bloomsbury, and others. The company also represented creators, including Todd Hignite, Jerry Robinson, Eleanor Davis and Drew Weing, Joey Chou, Rebecca Guay, Liniers, Howard Cruse, William Stout, and the Harvey Kurtzman and Al Capp estates, to major houses.
"John and I have packaged books for a number of first-rank publishers, but we have long discussed the ideal house to enjoy maximum freedom and creativity," Kitchen said. "In longtime friend and publisher Mike Richardson and Dark Horse Comics, we found just that."
The first Kitchen Sink Books release will be
The Best of Comix Book: When Marvel Went Underground!,
collecting the long-out-of-print material from the Marvel magazine edited by Kitchen and Stan Lee from 1974 to 1976. Creators in the collection, which will be released in November, include Joel Beck, Kim Deitch, Justin Green, Harvey Pekar, Trina Robbins, Art Spiegelman, Skip Williamson, and S. Clay Wilson.
Stan Lee will provide an introduction, Kitchen a foreword, and James Vance (
Kings in Disguise
) an essay.
The Best of Comix Book
will also include previously unpublished artwork, photographs, and correspondence from Kitchen's archives.
"My relationship with Denis goes back to the earliest days of Dark Horse," Richardson said, "and we've had a shared aesthetic with regard to comics from day one. With John, we have one of the best designer/editors in the business. I'm very much looking forward to the exciting projects that will result from this new imprint."