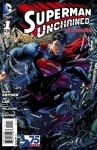 These are estimates of the sales on comic books by Diamond U.S. to comic specialty stores during June 2013.
For an overview and analysis of comic sales in June, see "
Supes' Million Dollar Book Leads June Titles
."
For an analysis of the dollar trends in June, see "
Comic Market Growth Slowed in Q2
."
For our estimates of actual sales by Diamond U.S. from comic specialty stores on graphic novels shipped during June, see "
Top 300 Graphic Novels Actual--June 2013
."
TOP 300 COMICS – June 2013

Rank

Index

Title

Price

Pub

Est.Qty

1

176.97

SUPERMAN UNCHAINED #1

$4.99

DC

251,456

2

100.96

BATMAN SUPERMAN #1

$3.99

DC

143,457

3

100.00

BATMAN #21

$3.99

DC

142,088

4

78.08

AGE OF ULTRON #10

$3.99

MAR

110,947

5

66.81

AGE OF ULTRON #9

$3.99

MAR

94,926

6

66.19

JUSTICE LEAGUE #21

$3.99

DC

94,054

7

59.27

SUPERIOR SPIDER-MAN #11

$3.99

MAR

84,219

8

57.95

SUPERIOR SPIDER-MAN #12

$3.99

MAR

82,338

9

57.84

ALL NEW X-MEN #12

$3.99

MAR

82,178

10

54.92

KICK-ASS 3 #1 (MR)

$2.99

MAR

78,035

11

54.65

ALL NEW X-MEN #13

$3.99

MAR

77,656

12

53.23

GUARDIANS OF GALAXY #3

$3.99

MAR

75,633

13

52.68

WALKING DEAD #111 (MR)

$2.99

IMA

74,857

14

52.68

AVENGERS #14

$3.99

MAR

74,846

15

51.88

UNCANNY X-MEN #7

$3.99

MAR

73,719

16

51.81

AGE OF ULTRON #10AI

$3.99

MAR

73,616

17

51.76

X-MEN #2

$3.99

MAR

73,542

18

50.58

GREEN LANTERN #21

$2.99

DC

71,870

19

50.56

UNCANNY AVENGERS #9

$3.99

MAR

71,842

20

50.53

JUSTICE LEAGUE OF AMERICA #5

$3.99

DC

71,793

21

50.37

GUARDIANS OF GALAXY #4

$3.99

MAR

71,575

22

48.30

AVENGERS #13

$3.99

MAR

68,624

23

45.89

DETECTIVE COMICS #21

$3.99

DC

65,200

24

42.65

BATMAN AND BATGIRL #21

$2.99

DC

60,601

25

42.32

NEW AVENGERS #7

$3.99

MAR

60,138

26

41.81

SAVAGE WOLVERINE #6

$3.99

MAR

59,410

27

41.40

THANOS RISING #3

$3.99

MAR

58,825

28

38.08

DEADPOOL #11

$2.99

MAR

54,110

29

34.79

INDESTRUCTIBLE HULK #9

$3.99

MAR

49,427

30

34.57

THOR GOD OF THUNDER #9

$3.99

MAR

49,125

31

34.21

BATMAN THE DARK KNIGHT #21

$2.99

DC

48,612

32

34.00

DEADPOOL #12

$2.99

MAR

48,315

33

33.93

JUPITERS LEGACY #2 (MR) [*]

$2.99

IMA

48,217

34

33.80

LAZARUS #1 (MR)

$2.99

IMA

48,030

35

32.96

AQUAMAN #21

$2.99

DC

46,832

36

32.93

WOLVERINE #4

$3.99

MAR

46,784

37

32.71

ACTION COMICS #21

$3.99

DC

46,475

38

31.97

GREEN LANTERN CORPS #21

$2.99

DC

45,423

39

31.25

IRON MAN #11

$3.99

MAR

44,409

40

31.17

SUPERMAN #21

$2.99

DC

44,285

41

30.82

CAPTAIN AMERICA #8

$3.99

MAR

43,791

42

30.75

WOLVERINE #5

$3.99

MAR

43,694

43

30.51

NIGHTWING #21

$2.99

DC

43,353

44

30.20

EARTH 2 #13

$2.99

DC

42,916

45

30.13

STAR WARS #6 2013 ONGOING

$2.99

DAR

42,806

46

29.99

TRUE LIVES O/T FABULOUS KILLJOYS #1

$3.99

DAR

42,613

47

29.91

UNCANNY X-FORCE #6

$3.99

MAR

42,496

48

29.76

GREEN LANTERN NEW GUARDIANS #21

$2.99

DC

42,290

49

29.32

WOLVERINE AND X-MEN #31

$3.99

MAR

41,661

50

28.51

HAWKEYE #11

$2.99

MAR

40,510

51

28.42

UNCANNY X-FORCE #7

$3.99

MAR

40,380

52

28.33

BATGIRL #21

$2.99

DC

40,252

53

28.00

WOLVERINE AND X-MEN #32

$3.99

MAR

39,790

54

27.76

EAST OF WEST #3 [*]

$3.50

IMA

39,441

55

27.34

FLASH #21

$2.99

DC

38,848

56

27.04

CABLE AND X-FORCE #9

$3.99

MAR

38,414

57

26.26

RED LANTERNS #21

$2.99

DC

37,312

58

26.09

FANTASTIC FOUR #9

$2.99

MAR

37,071

59

25.79

LARFLEEZE #1

$2.99

DC

36,638

60

25.72

NOVA #5

$3.99

MAR

36,545

61

25.41

CABLE AND X-FORCE #10

$3.99

MAR

36,104

62

25.34

WONDER WOMAN #21

$2.99

DC

35,999

63

25.22

DAREDEVIL #27

$2.99

MAR

35,834

64

24.43

TEEN TITANS #21

$2.99

DC

34,710

65

23.94

ULTIMATE COMICS SPIDER-MAN #24

$3.99

MAR

34,011

66

23.31

MY LITTLE PONY FRIENDSHIP IS MAGIC #8

$3.99

IDW

33,114

67

23.00

THUNDERBOLTS #10

$2.99

MAR

32,682

68

22.81

RED HOOD AND THE OUTLAWS #21

$2.99

DC

32,416

69

22.13

SECRET AVENGERS #5

$3.99

MAR

31,437

70

21.69

YOUNG AVENGERS #6

$2.99

MAR

30,822

71

21.55

THUNDERBOLTS #11

$2.99

MAR

30,618

72

21.16

FF #8

$2.99

MAR

30,061

73

20.63

WAKE #2 (MR) [*]

$2.99

DC

29,306

74

20.58

TEN GRAND #2 (MR) [*]

$2.99

IMA

29,241

75

20.07

BUBBLEGUN #1

$1.00

ASP

28,517

76

19.83

BATWOMAN #21

$2.99

DC

28,173

77

19.49

ASTRO CITY #1 COVER A

$3.99

DC

27,700

78

19.35

AVENGERS ASSEMBLE #16

$3.99

MAR

27,497

79

18.95

GREEN ARROW #21

$2.99

DC

26,924

80

18.86

AVENGING SPIDER-MAN #22

$3.99

MAR

26,799

81

18.59

CONSTANTINE #4

$2.99

DC

26,417

82

18.47

DAREDEVIL END OF DAYS #8

$3.99

MAR

26,239

83

18.31

INJUSTICE GODS AMONG US #6

$3.99

DC

26,011

84

18.20

SUPERGIRL #21

$2.99

DC

25,856

85

18.17

WORLDS FINEST #13

$2.99

DC

25,815

86

18.16

A PLUS X #9

$3.99

MAR

25,803

87

18.11

DAREDEVIL DARK NIGHTS #1

$2.99

MAR

25,736

88

18.02

CATWOMAN #21

$2.99

DC

25,611

89

17.79

AVENGERS ARENA #10

$2.99

MAR

25,277

90

17.75

MY LITTLE PONY MICRO SERIES #5 PINKIE PIE

$3.99

IDW

25,219

91

17.73

SWAMP THING #21

$2.99

DC

25,186

92

17.36

JUSTICE LEAGUE DARK #21

$2.99

DC

24,663

93

17.23

AVENGERS ARENA #11

$2.99

MAR

24,487

94

17.08

X-FILES SEASON 10 #1

$3.99

IDW

24,270

95

16.89

X-MEN LEGACY #12

$2.99

MAR

23,996

96

16.79

ANIMAL MAN #21

$2.99

DC

23,862

97

16.42

ASTONISHING X-MEN #63

$3.99

MAR

23,326

98

16.12

SUICIDE SQUAD #21

$2.99

DC

22,907

99

16.02

SCARLET SPIDER #18

$2.99

MAR

22,766

100

15.77

ADVENTURES OF SUPERMAN #2

$3.99

DC

22,407

101

15.75

FATALE #15 (MR)

$3.50

IMA

22,373

102

15.31

TALON #9

$2.99

DC

21,755

103

15.23

ULTIMATE COMICS ULTIMATES #25

$3.99

MAR

21,636

104

14.98

VENOM #36

$2.99

MAR

21,288

105

14.92

BTVS SEASON 9 FREEFALL #22

$2.99

DAR

21,194

106

14.75

SUPERBOY #21

$2.99

DC

20,952

107

14.68

ADVENTURE TIME #17

$3.99

BOO

20,860

108

14.63

ULTIMATE COMICS ULTIMATES #26

$3.99

MAR

20,785

109

14.62

BIRDS OF PREY #21

$2.99

DC

20,767

110

14.26

X-FACTOR #257

$2.99

MAR

20,264

111

14.19

FEARLESS DEFENDERS #5

$2.99

MAR

20,168

112

14.18

X-FACTOR #258

$2.99

MAR

20,154

113

13.85

CAPTAIN MARVEL #13

$2.99

MAR

19,673

114

13.73

REGULAR SHOW #2

$3.99

BOO

19,507

115

13.67

ULTIMATE COMICS X-MEN #28

$3.99

MAR

19,421

116

13.58

ULTIMATE COMICS X-MEN #27

$3.99

MAR

19,298

117

13.07

BATMAN LIL GOTHAM #3

$2.99

DC

18,578

118

12.86

HE MAN AND THE MASTERS OF THE UNIVERSE #3

$2.99

DC

18,277

119

12.69

GAMBIT #14

$2.99

MAR

18,027

120

12.67

MOVEMENT #2

$2.99

DC

18,001

121

12.62

SEX #4 (MR)

$2.99

IMA

17,938

122

12.51

TMNT ONGOING #23

$3.99

IDW

17,772

123

12.45

PETER PANZERFAUST #11

$3.50

IMA

17,683

124

12.31

100 BULLETS BROTHER LONO #1 (MR)

$3.99

DC

17,489

125

12.15

WINTER SOLDIER #19

$2.99

MAR

17,264

126

12.14

WOLVERINE MAX #8 (MR)

$3.99

MAR

17,247

127

12.13

TRINITY OF SIN THE PHANTOM STRANGER #9

$2.99

DC

17,241

128

12.04

MASTERS OF THE UNIVERSE ORIGIN OF HORDAK #1

$2.99

DC

17,113

129

12.02

MANHATTAN PROJECTS #12

$3.50

IMA

17,076

130

11.74

LEGENDS OF THE DARK KNIGHT #9

$3.99

DC

16,678

131

11.50

JOURNEY INTO MYSTERY #653

$2.99

MAR

16,343

132

11.37

UBER #2 (MR)

$3.99

AVA

16,160

133

11.36

STAR WARS LEGACY II #4

$2.99

DAR

16,147

134

11.35

BOUNCE #2 (MR)

$2.99

IMA

16,125

135

11.31

SPAWN #232

$2.99

IMA

16,077

136

11.30

EXTINCTION PARADE #1 (MR)

$3.99

AVA

16,061

137

11.29

AMERICAN VAMPIRE THE LONG ROAD TO HELL #1 (MR)

$6.99

DC

16,042

138

11.11

ALL STAR WESTERN #21

$3.99

DC

15,788

139

10.90

HEROBEAR AND THE KID SPECIAL #1

$3.99

BOO

15,491

140

10.88

BATMAN BEYOND UNLIMITED #17

$3.99

DC

15,464

141

10.65

FABLES #130 (MR)

$2.99

DC

15,129

142

10.63

SMALLVILLE SEASON 11 #14

$3.99

DC

15,097

143

10.61

INVINCIBLE #103

$2.99

IMA

15,072

144

10.55

LEGION OF SUPER HEROES #21

$2.99

DC

14,997

145

10.42

STAR WARS DARTH VADER & NINTH ASSASSIN #3

$3.50

DAR

14,806

146

10.26

MORBIUS LIVING VAMPIRE #6

$2.99

MAR

14,584

147

10.08

GREEN TEAM TEEN TRILLIONAIRES #2

$2.99

DC

14,328

148

10.06

FAIREST #16 (MR)

$2.99

DC

14,289

149

9.86

HARBINGER WARS (VU) #3 REG ZIRCHER

$3.99

VAL

14,012

150

9.66

BATMAN ARKHAM UNHINGED #15

$3.99

DC

13,729

151

9.65

JUSTICE LEAGUE OF AMERICAS VIBE #5

$2.99

DC

13,706

152

9.62

ANGEL & FAITH #23

$2.99

DAR

13,668

153

9.53

REVIVAL #11

$2.99

IMA

13,536

154

9.52

MORNING GLORIES #28 (MR)

$3.99

IMA

13,530

155

9.43

RED SHE-HULK #66

$2.99

MAR

13,403

156

9.32

ARCHER & ARMSTRONG (VU) #10 REG HENRY

$3.99

VAL

13,241

157

9.31

X-O MANOWAR (VU) #14 (PD) REG LOZZI

$3.99

VAL

13,227

158

9.28

UNCANNY #1

$3.99

DE

13,192

159

9.16

DOCTOR WHO PRISONERS OF TIME #6

$3.99

IDW

13,018

160

9.15

KATANA #5

$2.99

DC

12,998

161

9.10

HARBINGER (VU) #13 HARBINGER WARS REG ZIRCHER

$3.99

VAL

12,930

162

9.00

MASKS #8

$3.99

DE

12,794

163

8.82

MARVELS THOR DARK WORLD PRELUDE #1

$2.99

MAR

12,528

164

8.75

BATWING #21

$2.99

DC

12,437

165

8.75

FURY MAX #13 (MR)

$3.99

MAR

12,426

166

8.72

CONAN THE BARBARIAN #17

$3.50

DAR

12,395

167

8.64

STORMWATCH #21

$2.99

DC

12,277

168

8.55

STAR WARS DARK TIMES FIRE CARRIER #5

$2.99

DAR

12,145

169

8.55

BLOODSHOT (VU) #12 HARBINGER WARS REG ANDRASOFSZKY

$3.99

VAL

12,145

170

8.53

DJANGO UNCHAINED #4 (MR)

$4.99

DC

12,119

171

8.46

SHADOWMAN (VU) #7 REG ZIRCHER

$3.99

VAL

12,017

172

8.38

DIAL H #13

$2.99

DC

11,905

173

8.37

DARK TOWER GUNSLINGER EVIL GROUND #2

$3.99

MAR

11,890

174

8.18

DEMON KNIGHTS #21

$2.99

DC

11,627

175

7.99

FIVE GHOSTS HAUNTING OF FABIAN GRAY #4

$2.99

IMA

11,357

176

7.90

AME COMI GIRLS #4

$3.99

DC

11,229

177

7.87

THUMBPRINT BY JOE HILL #1

$3.99

IDW

11,185

178

7.83

SONIC UNIVERSE #53

$2.99

ARC

11,123

179

7.81

POWERS BUREAU #5 (MR)

$3.95

MAR

11,092

180

7.69

TMNT VILLAIN MICROSERIES #3 OLD HOB

$3.99

IDW

10,933

181

7.65

BEDLAM #7 (MR)

$3.50

IMA

10,875

182

7.65

GI JOE #5

$3.99

IDW

10,866

183

7.64

DJANGO UNCHAINED #5 (MR)

$4.99

DC

10,856

184

7.63

WILD BLUE YONDER #1

$3.99

IDW

10,840

185

7.60

STAR TREK ONGOING #22 AFTER DARKNESS PT 2

$3.99

IDW

10,799

186

7.51

BPRD VAMPIRE #4

$3.50

DAR

10,674

187

7.39

BATTLESTAR GALACTICA #2 (MR)

$3.99

DE

10,503

188

7.30

LOCKE & KEY OMEGA #5

$3.99

IDW

10,368

189

7.21

ABE SAPIEN DARK & TERRIBLE #3

$3.50

DAR

10,250

190

7.20

DOCTOR WHO VOL 3 #10

$3.99

IDW

10,234

191

7.17

THRESHOLD #6

$3.99

DC

10,184

192

7.13

UNWRITTEN #50 (MR) (NOTE PRICE)

$4.99

DC

10,124

193

7.10

BPRD HELL ON EARTH #108 WASTELAND #2

$3.50

DAR

10,093

194

7.09

SHADOW #14

$3.99

DE

10,071

195

7.01

GRIMM #2

$3.99

DE

9,961

196

6.92

MISS FURY #3

$3.99

DE

9,834

197

6.91

GODZILLA RULERS OF THE EARTH #1

$3.99

IDW

9,813

198

6.90

KING CONAN HOUR O/T DRAGON #2

$3.50

DAR

9,808

199

6.88

INVINCIBLE UNIVERSE #3

$2.99

IMA

9,778

200

6.81

ARROW #8

$3.99

DC

9,671

201

6.68

TRANSFORMERS ROBOTS IN DISGUISE #18

$3.99

IDW

9,495

202

6.66

JUDGE DREDD #8

$3.99

IDW

9,469

203

6.63

APHRODITE IX #2

$2.99

IMA

9,414

204

6.61

TRANSFORMERS MORE THAN MEETS EYE #18

$3.99

IDW

9,394

205

6.60

MASSIVE #13

$3.50

DAR

9,371

206

6.54

MEGA MAN #26

$2.99

ARC

9,290

207

6.53

ALPHA BIG TIME #5

$2.99

MAR

9,278

208

6.48

TRANSFORMERS REGENERATION ONE #92

$3.99

IDW

9,206

209

6.46

MARA #5 (MR)

$2.99

IMA

9,177

210

6.28

DREAM MERCHANT #2 (MR)

$3.50

IMA

8,930

211

6.22

MARVEL BACKLIST READING CHRONOLOGY #1

$1.99

MAR

8,837

212

6.11

BLACK BAT #2

$3.99

DE

8,682

213

6.08

GARTH ENNIS RED TEAM #3 (MR)

$3.99

DE

8,645

214

6.03

TRANSFORMERS MONSTROSITY #1

$3.99

IDW

8,562

215

5.93

HELHEIM #4 (MR)

$3.99

ONI

8,432

216

5.87

RACHEL RISING #17

$3.99

ABS

8,336

217

5.85

BALTIMORE THE INQUISITOR ONE SHOT

$3.50

DAR

8,309

218

5.81

JUDGE DREDD YEAR ONE #3

$3.99

IDW

8,251

219

5.73

DANGER GIRL TRINITY #3

$3.99

IDW

8,144

220

5.70

BLACK BEETLE #4 NO WAY OUT

$3.99

DAR

8,096

221

5.69

GAME OF THRONES #15 (MR)

$3.99

DE

8,081

222

5.66

MALEVOLENT MR BURNS #1

$3.99

BON

8,048

223

5.57

SUICIDE RISK #2

$3.99

BOO

7,914

224

5.52

BRAVEST WARRIORS #9

$3.99

BOO

7,850

225

5.49

X #2 (MR)

$2.99

DAR

7,797

226

5.46

GFT WONDERLAND #12 (MR)

$2.99

ZEN

7,765

227

5.44

SIX GUN GORILLA #1

$3.99

BOO

7,730

228

5.38

TRANSFORMERS PRIME BEAST HUNTERS #2

$3.99

IDW

7,642

229

5.36

GHOSTBUSTERS #5

$3.99

IDW

7,620

230

5.33

CROSSED BADLANDS #30 (MR)

$3.99

AVA

7,573

231

5.28

GI JOE A REAL AMERICAN HERO #191

$3.99

IDW

7,508

232

5.21

GI JOE COBRA FILES #3

$3.99

IDW

7,407

233

5.16

WITCHBLADE #167

$2.99

IMA

7,329

234

5.16

CROSSED BADLANDS #31 (MR)

$3.99

AVA

7,327

235

5.14

MIND THE GAP #11

$2.99

IMA

7,301

236

5.09

DEJAH THORIS & GREEN MEN OF MARS #4 (MR)

$3.99

DE

7,233

237

5.01

GFT ROBYN HOOD WANTED #2 (MR)

$2.99

ZEN

7,116

238

5.01

MOUSE GUARD LEGENDS O/T GUARD VOL 2 #1

$3.50

ARA

7,116

239

5.01

GFT WONDERLAND DOWN RABBIT HOLE #2 (MR)

$2.99

ZEN

7,115

240

4.96

SPONGEBOB COMICS #21

$2.99

UNI

7,043

241

4.88

SIMPSONS COMICS #203

$2.99

BON

6,930

242

4.68

DOOMSDAY.1 #2

$3.99

IDW

6,647

243

4.65

CROW CURARE #1

$3.99

IDW

6,607

244

4.64

WARLORD OF MARS DEJAH THORIS #26 (MR)

$3.99

DE

6,593

245

4.61

EDGAR ALLAN POES FALL O/T HOUSE OF USHER #2

$3.99

DAR

6,556

246

4.55

BREATH OF BONES A TALE O/T GOLEM #1

$3.99

DAR

6,465

247

4.53

POLARITY #3

$3.99

BOO

6,436

248

4.48

VAMPIRELLA STRIKES #6

$3.99

DE

6,365

249

4.46

CLONE #8

$2.99

IMA

6,343

250

4.43

EVIL ERNIE #6

$3.99

DE

6,299

251

4.43

CAPTAIN MIDNIGHT #0

$2.99

DAR

6,290

252

4.39

GFT GRIMM FAIRY TALES #86 (MR)

$2.99

ZEN

6,231

253

4.38

HOUSE OF GOLD & BONES #3

$3.99

DAR

6,222

254

4.32

SPONGEBOB COMICS ANNUAL GIANT SWIMTACULAR #1

$4.99

UNI

6,137

255

4.26

KISS SOLO #4 THE CATMAN

$3.99

IDW

6,048

256

4.22

VAMPIRELLA #30

$3.99

DE

5,995

257

4.05

OCCUPY COMICS #2

$3.50

BLA

5,760

258

3.99

X-MEN #1

$3.99

MAR

5,664

259

3.98

SCREWED #1 (MR)

$2.99

ZEN

5,656

260

3.96

MIND MGMT #12

$3.99

DAR

5,630

261

3.95

GREAT PACIFIC #7 (MR)

$2.99

IMA

5,610

262

3.87

FATHOM ELITE SAGA #1

$3.99

ASP

5,499

263

3.81

PROPHET #36

$3.99

IMA

5,412

264

3.80

GFT ANNUAL 2013 (MR)

$5.99

ZEN

5,396

265

3.76

ALL NEW SECRET SKULLKICKERS #1

$3.50

IMA

5,346

266

3.76

SUPERMAN UNCHAINED #1 COMBO PACK

$5.99

DC

5,336

267

3.71

LIBERATOR #1

$3.50

BLA

5,266

268

3.69

BART SIMPSON COMICS #84

$2.99

BON

5,240

269

3.67

RED SONJA #77

$3.99

DE

5,212