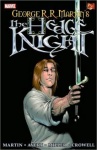 Online retailing giant Amazon, which has increasingly moved away from its traditional retailing role and into content creation, announced the creation of a new imprint Jet City Comics, which will enter the realm of comic book publishing with adaptations of high profile science fiction and fantasy authors including George R.R. Martin, Neal Stephenson, and Hugh Howey.
Amazon plans on releasing its comic book adaptations first as digital comic books for Amazon's Kindle e-reader and then as collected print editions that will be available from Amazon online and "from other comic retailers." Just exactly how enthusiastic direct market retailers will be about comics created by the entity that many comic shop owners see as their primary rival for graphic novel sales remains to be seen, though given the literary pedigree of the Jet City titles, the bookstore market should be of equal or even more importance.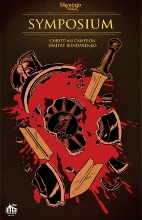 Amazon is planning to launch its Jet City Comics line later this year with three titles, adaptations of George R.R. Martin's
Meathouse
and Hugh Howey's
Wool
with first issues debuting in October, and
The Foreworld Saga
, a series of original comic stories set in the alternate history world created by Neal Stephenson, Greg Bear, Mark Teppo, Nicole Galland, Eric Bear, Joseph Brassey, and Cooper Moo for their
The Mongoloid
collaborative novel. Christopher Cameron and Dmitry Bondarenko's
Symposium
, the first of these alternate history sagas debuts in digital form today.
Jimmy Palmiotti and Justin Gray are writing the adaptation of Howey's dystopian science fiction novel
Wool
with Jimmy Broxton illustrating.
Wool
launches in October along with Raya Golden's adaptation of Martin's
Meathouse
, which the
Game of Thrones
author described as "the darkest, bleakest, sickest, and most twisted thing I ever wrote."
Then in November Amazon will reissue Ben Avery and Mike S. Miller's adaptation of Martin's
The Hedge Knight
with a follow-up reissue of Avery and Miller's adaptation of the second book in
The Hedge Knight
series,
The Sworn Sword,
set to appear sometime in 2014.