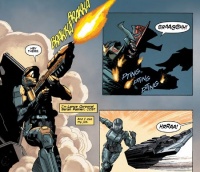 Comic-Con News:
Dark Horse Comics will publish an on-going comic book series based on the storyline of Halo 4, the latest iteration of the popular first-person shooter game that debuted last November. Dark Horse's
Halo: Escalation
#1 will be written by Chris Schlerf, the lead writer on the
Halo 4
videogame. Omar Francia (
Mass Effect
) will provide the art for the first three issues with Anthony Palumbo providing the cover art.
According to
Wired
magazine, Frank O'Conner, who is in charge of the
Halo
development team, will introduce the new
Halo: Escalation
title today at Comic-Con. Dark Horse, which has had considerable success with both comics based on video games (
Mass Effect
) and collections of videogame art (
The Legend of Zelda: Hyrule Historia
, see "
Dark Horse Has the #1 Book in America
") recently acquired the rights to
Halo
, which had previously belonged to Marvel (see "
Dark Horse Gets a 'Halo'
").
Dark Horse's first
Halo
release, a miniseries
Halo: Initiation
will debuton August 14th, but
Halo: Escalation
will actually be the first ongoing comic book series based on the popular videogame (Marvel released some
Halo
graphic novels and miniseries, but no continuing series).
Microsoft is intent on expanding the
Halo
franchise in to other media. The live-action TV series
Halo: Forward Unto Dawn
that was produced last year was just nominated for an Emmy, and Steven Spielberg is producing another live-action
Halo
TV series that was announced in May.