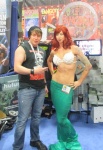 We continue the story of Comic-Con in pictures with our Saturday photos. See also
Part 5
,
Part 7
, and
Part 8
;
Part 9
for Sunday. Or go back to
Part 1
.
NOTE: Any image can be clicked for a larger view.
A mermaid with ink, at the
Fangoria
booth.
Back in the old days, big-time exhibitors used to bring cars, but now that's so 2008. This year, it was ships. Here's one promoting ABC's
Once Upon a Time
.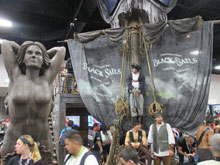 Another ship, this one for
Black Sails
, a new series premiering on Starz in January.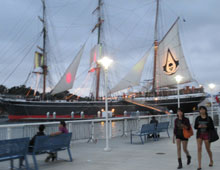 And this one, behind the Convention Center, was the long ship promoting
Assassin's Creed IV
in various ways, including firing a cannon several times a day.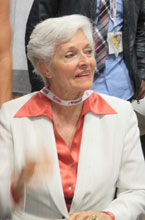 One time Miss America Lee Meriwether, who played Catwoman in the 1966
Batman
movie.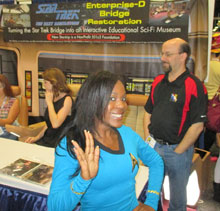 The booth for the new Enterprise-D Bridge Restoration non-profit organization, which seeks to turn the bridge into "an interactive educational sci-fi museum."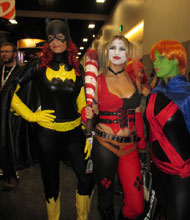 Batgirl, Harley Quinn, and Miss Martian, a major trio.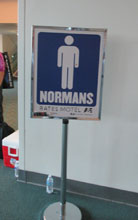 The organization that runs San Diego Comic-Con has become more sophisticated over the years at finding more sponsorship opportunities to sell. Here, the sign for the bathroom sponsorship by A&E show
Bates Motel
.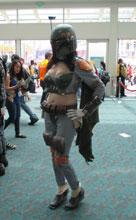 A female Boba Fett, taking a time-out to pose.
BANG! Harley Quinn has a gun.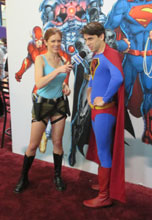 Another "only at Comic-Con" moment: Superman interviewed by ("classic") Lara Croft.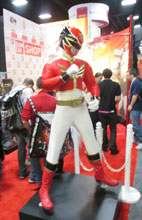 Bandai gave high visibility to
Power Rangers
with statuary (here) and costumed characters.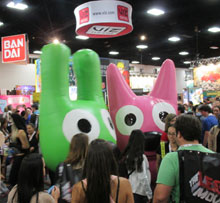 Hoops and Yoyo were mobbed.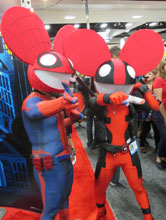 Deadmau5 Spider-Man and Deadmau5 Deadpool!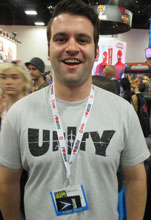 Valiant marketing maven Hunter Gorinson wearing his colors for the "Road to Unity," event.
Click here to go to
Part 7
.