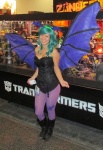 We continue the story of Comic-Con in pictures with our Saturday photos. See also
Part 5,
Part 6
, and
Part 7
;
Part 9
for Sunday. Or go back to
Part 1
.
NOTE: Any image can be clicked for a larger view.
Morrigan (
Darkstalkers
) flashes a smile in front of the
Transformers
display.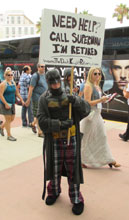 Wait, Batman's retired?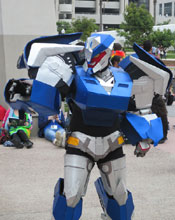 A pretty great
Transformer
, walking around out front.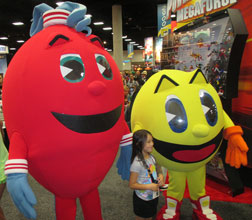 Pac-Man is getting a revival, for television.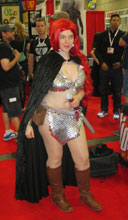 The She Devil with a Sword's coif appears color-coordinated with the carpet.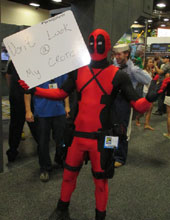 Deadpool has some pretty specific instructions about what not to look at.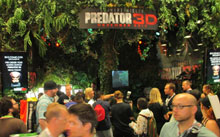 A pretty major booth for
Predator 3D
, coming in December.
We ran into two guys with questionable t-shirts together. This one, which seems to suggest bodily harm to a certain Canadian born pop singer.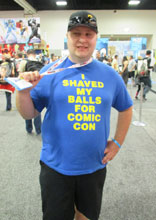 And this one, which gave way too much information.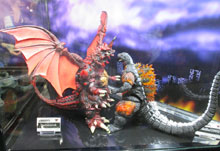 The Destroyah figure from Bandai's high end
S.H. MonsterArts
brand, which shipped in March at $149.99 MSRP.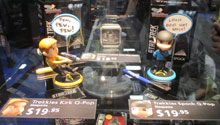 Trekkies
Q-Pops
, from QMx.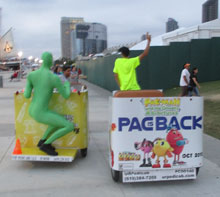 More pedicab marketing including some promotion for the upcoming
Pac-Man and the Ghostly Adventures
TV series and another with a manikin.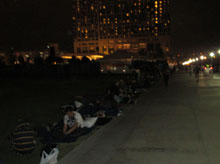 Saturday night, like every night, there were people sleeping in line to get in the best position for the next day's programming.
Go back to
Part 1
.