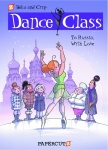 Dance Class: To Russia With Love HC
Publisher: Papercutz
Release Date: July 2013
Price: $10.99
Creators: Béka [writer] and Crip [artist]
Format: 48 pgs., Full Color, 7" x 9", Hardcover
ISBN: 9-781-5970-7423-0
Age Rating: All ages
ICv2 Rating: 4 Stars out of 5
Dance Class is a series of French comic strips, translated for Papercutz. When translating from other languages, the most difficult part is translating humor, but in this case it works amazingly well. Much of the humor is physical slapstick, based on the various dance classes portrayed, but other aspects of the humor are more subtle, based on character interactions and misunderstandings. Both writer and artist have done a good job with creating convincing, fun characters and goofy situations.
The artwork is cartoony but clear, with characters that are easy to distinguish and have a wonderfully expressive set of facial expressions. Within this one volume, the stories range from ballet to swing dance to African dance to modern dance, and do justice to all.
Individual stories within the volume are 2-3 pages in length, generally ending with a punch line of some kind, but often with multiple gags. The volume's title comes from the dance academy doing a cultural exchange trip to Russia, covering almost half of the book. The creators, Béka and Crip have created a story that will be of special interest to girls old enough to think about being a dancer, even for fun, but also to boys who are interested in any form of dancing. The Nutcracker sequence alone is worth the price of the book.
--
Nick Smith: Librarian Technician, Community Services, for the Pasadena Public Library in California.