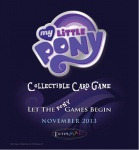 Enterplay will launch a collectible card game based on
My Little Pony
in November, company president Dean Irwin announced at a presentation to MLP fans on Saturday. The new game will be packaged in traditional starter decks and booster packs.
Game play demos will be offered at Gen Con, August 14-18.
Enterplay has released two series of
My Little Pony: Friendship is Magic Trading Cards
to great response, with aftermarket values on some cards high and multiple reprints required (see "
'My Little Pony: Friendship Is Magic Series 2 Trading Cards'
").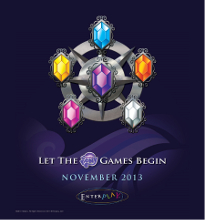 My Little Pony: Friendship Is Magic
is red hot in a variety of categories (including comics) and channels (including comic stores and bookstores) behind the big success of the TV show across a broad range of audience segments (see "
Bronies Drive 'MLP' Hits
"). One recent example from our summer travels, the comics and games store that sold over 2000
My Little Pony
plastic cups (see "
Comic-Con 2013 Photos--Part 5
").
The property is about to get another boost with the TV launch of
My Little Pony: Equestria Girls
on The Hub, which will premiere on September 1, according to
The Hollywood Reporter
. The new OAV, in which the main characters are teenagers, had a 200-theater release in June (see "
Bronies Get Ready
").