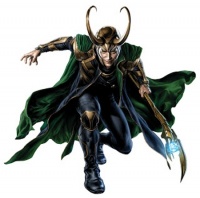 The powers that be at Marvel are apparently under the spell of the Asgardian trickster, because they recently greenlit reshoots to add more Loki to
Thor: The Dark World.
Who could blame them? Loki
stole the show
at Marvel's Comic-Con panel on Saturday in Hall H.
Speaking with
Collider
at Disney's D23 over the weekend, director Alan Taylor revealed that new pick-up shots were filmed recently with actor Tom Hiddleston in Manhattan Beach, CA. "We're doing full scenes. Scenes that were not in the movie before," Taylor said. "We're adding scenes, creating scenes, writing scenes for the first time. I think the one you're kind of talking to is a fun, connective scene, we realized how well Loki was working in the movie and we wanted to more with it."
Thor: The Dark World
opens on November 8th. The latest trailer and most recent poster can be viewed here: "
'Thor: The Dark World' HD Trailer
."