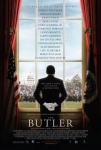 Lee Daniel's
The Butler
easily topped the weekend box office with an estimated $25 million, but Jeff Wadlow's
Kick-Ass 2,
which was supposed to challenge for the top spot, disappointed as it ended up in a virtual tie for third place with an estimated total of $13. 6 million. Two other newcomers fared even worse and the total of the top 12 films was down 5.4% from the same weekend last year when
The Expendables 2
opened with $28.5 million.
The Butler
, which was inspired by the life of White House butler Eugene Allen, is an adult oriented drama that was originally supposed to open during the heart of "Oscar" season in October. But the Weinstein Company, seeing the success of other Oscar-worthy dramas including
The Help
, which like
The Butler
deals with the history of race relations and the civil rights movement, have done very well by opening in August.
The Butler
also benefited from the non-stop promotional efforts of Oprah Winfrey, who plays the lead character's wife.
Like
The Help
, the audience for
The Butler
skewed female (60%) and older with a whopping 76% over 35, and the film also drew an educated audience with 71% holding college degrees. This is the type of crowd that is most likely to be influenced by reviews, and the notices for
The Butler
have been good with the film earning a 73% positive rating on review aggregator Rotten Tomatoes. It's hard to predict the ceiling for a film like
The Butler
, but like
The Help
, which spent 8 weeks in the Top 10 in 2011,
The Butler
earned an excellent "A" CinemaScore, so expect to see
The Butler
hang around in theaters for quite a while.
Weekend Box Office (Studio Estimates): August 16-18, 2013

Film

Weekend Gross

Screens

Avg./

Screen

Total Gross

Wk#

1

Lee Daniels' The Butler

$25,010,000

2,933

$8,527

$25,010,000

1

2

We're the Millers

$17,780,000

3,325

$5,347

$69,513,000

2

3

Elysium

$13,600,000

3,284

$4,141

$55,914,000

2

4

Kick-Ass 2

$13,568,000

2,940

$4,615

$13,568,000

1

5

Planes

$13,141,000

3,716

$3,536

$45,090,000

2

6

Percy Jackson: Sea of Monsters

$8,375,000

3,080

$2,719

$38,904,000

2

7

Jobs

$6,700,000

2,381

$2,814

$6,700,000

1

8

2 Guns

$5,572,000

2,471

$2,255

$59,221,000

3

9

The Smurfs 2

$4,600,000

2,349

$1,958

$56,912,000

3

10

The Wolverine

$4,425,000

2,058

$2,150

$120,458,000

4
Second place went to the R-rated comedy
We're The Millers
, which suffered the lowest second weekend drop of any of this summer's major releases at just 33%. The raunchy drug smuggling comedy remained at number 2 for the second weekend in a row, and has a domestic cumulative that is considerably higher than that of
Elysium
, the movie that topped
The Millers
last weekend.
Neil Blomkamp's science fiction saga
Elysium
dropped 54.4% as it earned an estimated $13.6 million and brought its domestic cumulative to $55.9 million. Like so many other films this summer, the $115 million Elysium will need strong performances overseas to earn back its cost.
Whether
Kiss-Ass 2
ends up at number three or number four won't be known until final numbers are out tomorrow since estimates put the comic book-based film in a virtual tie with
Elysium
, but there is no doubt that Universal is disappointed with the
Kick-Ass
sequel's debut. The movie had created a fair amount of fanboy buzz, but that didn't translate to big numbers in the theaters. The 27.6% drop from Friday to Saturday indicates both that the film did have a following eager to see it immediately and that it wasn't a particularly good "date" movie.
The first
Kick-Ass
film debuted to $19.8 million in April of 2010, so the sequel's $13.6 million bow has to be seen as something of a problem in spite of the movie's modest $28 million production cost
. Kick-Ass
2
did attract a younger audience--58% was under 25--just not enough of them. As expected the film skewed heavily male (63%). It did manage to earn an overall "B+" CinemaScore, a solid mark that should provide some hope that the film will be able to stick around for a decent theatrical run. Interestingly the 15% of the audience that was under 17 (how strictly is the "R" rating being enforced?) gave the film an excellent "A" CinemaScore. Note that all segments of the audience rated the film much, much higher than the critics who gave it a lousy 29% positive rating on Rotten Tomatoes.
The first
Kick-Ass
film didn't do all that well at the box office where its total was just $96.4 million worldwide, but it did kill on DVD. Perhaps that is because the real audience for the film is composed of kids the same age (or younger) than the protagonists of the movie, which might just mean that
Kick-Ass 2
could eventually earn some solid coin on disc.
Fifth place went to Disney's
Planes
, which dropped 40.9%, but still managed to earn $13.1 million and bring its two-week total to $45 million. This summer's glut of family films has created some losers in the normally gilt-edged animated features category (Epic, Turbo), but this $50 million production appears to be in no danger of losing money, though it may end up making more in merchandising rights than on its modest theatrical earnings.
Percy Jackson: Sea of Monsters
dropped just 41.8% in its second weekend, but this $90 million YA novel adaptation has just earned $39 million so far here in North America, and will need a very good run overseas just to break even.
The Ashton Kutcher-starring Steve Jobs biopic
Jobs
debuted in the seventh spot with a paltry $6.7 million. Produced for just $12 million, this movie is in little danger of either losing or making a lot of money. The bigger question is will it have any effect on the bigger budget Jobs biofilm based on Walter Isaacson's bestselling biography and written by Aaron Sorkin (The Social Network).
Universal's comic book-based
2 Guns
dropped 50.5% as it slipped from fifth to eighth place in its third weekend. The $61 million film has now earned $59.2 million at the domestic box office. Its fate also rests on how it does in the rest of the world--and Universal is holding the film back because of the summer-long glut of American films on the international stage.
Also in its third weekend, the live-action/animated hybrid family film
The Smurfs 2
slipped to ninth as it earned an estimated $4.6 million. The movie is doing much better overseas where it has amassed 72.5% of its total of $207 million.
The tenth spot went to Fox's
The Wolverine
, which earned $4.4 million to bring its domestic total to $120.5 million. Fortunately for the studio the $120 million film is doing far better overseas where it has earned 64.1% ($214.8 million) of its worldwide total ($335.3 million).
Debuting well outside the top ten was Robert Luketic's industrial thriller
Paranoia
, which stars Liam Hemsworth, Gary Oldman, and Harrison Ford, but which could muster only a pathetic 4% positive rating on Rotten Tomatoes. The movie earned just $3.5 million and attracted an audience that was older (64% over 25), male (54%) and unhappy (they gave the film a wretched "C-" CInemaScore).
Check back next week as the summer season finally winds down with the release of Edgar Wright's post-apocalyptic comedy/pub crawl
The World's End
starring Simon (imantman) Pegg, Nick Frost (
Hot Fuzz
), and Martin Freeman (
The Hobbit's
Bilbo Baggins).