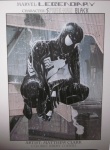 Upper Deck Entertainment's Jason Brenner announced the new set for its
Marvel Legendary: A Marvel Deck Building Game,
an as-yet-to-be-named Spider Man themed set which features Carnage as one of the two main Masterminds, Saturday Night at Gen Con.
"The pieces I'm showing you guys are real art; this is not clip art," Brenner, Upper Deck's Marvel brand manager, told the packed audience at the Hard Rock Café Saturday
Legendary
party. He showed off poster versions of Spider Man and Carnage, pictured here.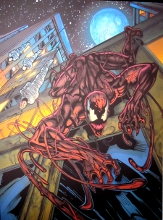 Brenner then announced plans for a contest to name the set. Fans can submit names (preferably Carnage themed) to the game's Facebook page, with the winning entrant receiving a free copy of the set.
"We have all new mechanics, all new art, two new Masterminds, new schemes, very similar to the structure of
Fantastic Four,
" said Nick Leslie, Upper Deck's Entertainment Coordinator and Art Editor (while he would not reveal the other Mastermind, he did confirm that Venom is
not
the other one). He also shared that Matthew Clark (
Punisher, Ghost Rider
) did the hero art for the set. There are 100 cards in the set, and MSRP is set at $19.99.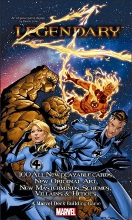 The
Marvel Legendary: Fantastic Four
100-card expansion set will come out in October, with hero art by Ale Garza (
Uncanny X-Force, DC Teen Titans),
villain art by J.J. Kirby (
Backlash, Wetworks)
and box art by Nigel Raynor (
Battlestar Galactica, Green Hornet: Parallel Lives)
. The expansion features the Fantastic Four and Silver Surfer in combat with Mastermind Galactus. Included are five heroes, two new villain groups and two new Masterminds. MSRP is $19.99.
Marvel Legendary
currently ranks at the #6 spot on ICv2's Top Ten Spring Card/Dice Games chart (see "
Top 10 Card/Dice Games--Spring 2013
").
Upper Deck also announced
Legendary Encounters: Alien
(see "
UDE Announces 'Alien' Deckbuilding Game
").