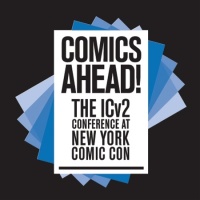 An ICv2 Release
. ICV2 has announced its first sessions for the ICv2 Conference: Comics Ahead!, and they're on the big topics that have the potential to dramatically alter the comics and graphic novel world in the coming years. The Conference this year is concentrating on how the business of comics and graphic novels can keep moving ahead, continuing and expanding on the growth of the last two years.
The initial sessions are:
From Creator to Consumer
The path from comic creators to consumer is being disrupted by technology, new business models, and changing tastes. Webcomics and digital sales, Kickstarter, and closer relationships between creators and their fans are empowering new and emerging business models. How much will these emerging trends change comics and everything based on them in the years ahead? We ask our expert panel.
The Rise of Geek Culture
The emerging geek culture market is the #1 North American pop culture trend; and as these important, influential consumers flex their muscles, marketers are taking notice. What does this mean for the future of entertainment, marketing, and the stories that are weaving themselves through American life and beyond? Join our panel of experts as they look ahead.
The ICv2 White Paper
This ICv2 White Paper will present a comprehensive look at the comics and graphic novel market in print and digital for 2012 and 2013, with an analysis of long and short term trends driving the market.
Additional session information and a speaker list will be released soon.
Comics Ahead!—The ICv2 Conference will take place at the Jacob Javits Convention Center, from 1:00 to 6:00 p.m. on Wednesday afternoon, October 9.
Click here to register
.
For more information, including info for press, sponsors, or speakers, see "
Comics Ahead! – The ICv2 Conference
."
ICv2
ICv2 is the #1 industry source on the business of geek culture, including comics and graphic novels, manga and anime, movie/TV products, and hobby games, on its Website, www.ICv2.com, and in its magazine, Internal Correspondence. For the people on the front lines of the geek culture business, staying ahead of the trends isn't something that can be left to chance-it's a basic necessity for being successful. That's why ICv2 is the #1 source of news and information for the buyers, gatekeepers, and tastemakers on the front lines. ICv2 is where trend-watching is a science.
Our Sponsors
Each year, our sponsors include some of the most forward-thinking companies in the industry. If you're interested in a sponsorship for the ICv2 Conference, please contact the organizer.
Conference Sponsor: Publishers Weekly
Publishers Weekly is your number one insider's guide for all pre-publication comics and graphic novels. Register for PW's ComicsWorld e-newsletter for advance listing, reviews and news dedicated to comics and Graphic Novels. If it is happening at New York Comic Con, then we have already written about it on PublishersWeekly.com.
Conference Sponsor: New York Comic Con
New York Comic Con is the East Coast's biggest and most exciting popular culture convention. Our show floor plays host to the latest and greatest in comics, graphic novels, anime, manga, video games, toys, movies, and television. Our panels and autograph sessions give fans a chance to interact with their favorite creators. Our screening rooms feature sneak peeks at films and television shows months before they hit either big or small screens. And with dedicated professional hours, New York Comic Con is a market place, bringing together the major players in the entertainment industry. New York Comic Con is the second largest pop culture convention in America with over 105,000 attendees in 2011, and the only one that takes place in the comic book, publishing, media, and licensing capital of the world--Gotham City.