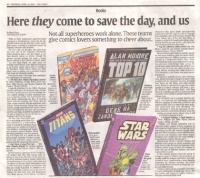 Comics and superheroes made quite a splash in the media last week and we're not even counting the articles about the new X-Men movie that opens this coming weekend. The biggest (literally) superhero movie star of the summer stole a little of the X-Men's thunder with a jolly green gigantic take on the 'Got Milk' advertising campaign, while USA Today featured four comic book trade paperback collections in a prime half-page spread in its Thursday edition. Meanwhile Entertainment Weekly's 'Comics' section featured an article on Superman, a short interview with Brian Michael Bendis, and reviews of six graphic novels and three monthly comics.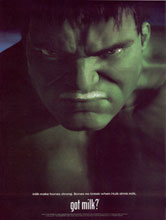 USA Today's reviews of The New Teen Titans: The Judas Contract ('a welcome respite from this generation's film-inspired anti-heroes'), Star Wars, A Long Time Ago, Vol. 5 Fool's Bounty ('Fans of the Star Wars Films, or readers in search of thought-provoking, entertaining, and fun-to-read stories, will enjoy this volume'), Top 10: Collected Edition Book 2 ('The ensemble cast is original, Alan Moore's setting is awe-inspiring and frightening and his effective juggling of numerous characters and subplots ranks Top 10 as one of the most ambitious super-team titles every attempted'), and X-Statix Volume 1: Good Omens ('X-Statix's satirical look at modern social mores and combination of hard luck stories and epic battles will appeal to readers seeking a haunting and memorable read'), were compact and overwhelmingly positive.
Meanwhile Entertainment Weekly's popular Summer Movie Double Issue should also provide retailers with material for do-it-yourself shelf-talkers and display boards. While EW's Jeff Jensen did carp about Superman's inability to make our world into a Utopia, he also singled out four 'Graphic Novels You Really Oughta Get Your Hands On,' including Doug Tennapel's Creature Tech, Mike Kunkel's Herobear and the Kid, Don Lomax's Vietnam Journal, and Greg Rucka's Queen & Country. Jensen also gave 'A's to Joe Matt's Fair Weather (from Drawn & Quarterly) and Image's Bulletproof Monk trade, while providing the same rating to Marvel monthlies Rawhide Kid and 411 and dispensing a B+ to the new Image comic series, Hawaiian Dick.