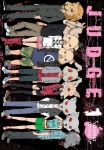 Judge Vol. 1 (Manga)
Publisher: Yen Press
Release Date: 8/20/2013
Price: $12.99
Creator: Yoshiki Tonogai
Format: 195 pgs., B&W, Trade Paperback
ISBN: 978-0-3162-5266-9
Age Rating: 16+
ICv2 Rating: 4 stars out of 5
Serving as a sequel of sorts to a different horror story titled
Doubt
, this is another slow, methodical horror series from the same author. In this story, various people who represent the deadly sins are kidnapped and brought to an out of the way place that they can't identify. When they all wake up they are given clear instructions: every twelve hours they must vote for someone from within the group to kill. The one with the most votes will be killed and eventually four of them will be allowed to go free.
The first thing that struck me about this book is the artwork. Like
Doubt
, the artwork in this book is very fitting for the tone of the story. Dark, twisted and rarely a little bloody this book really captures the feelings of the characters and displays it page after page. Occasionally there are two page spreads of artwork which do an even more amazing job of capturing the atmosphere and moving the story along without even the aid of any words.
There is no way to deny that this is a gripping book. Despite coming in at almost 200 pages, this is an absolute page turner that I could not put down. From the moment I started to later when I finished, I could not stop reading this book. Everything about it just compelled me to keep moving forward, deeper and deeper into the story.
If you enjoy horror manga that makes an effective use of the slow build, you're going to enjoy
Judge
volume 1. While it's not particularly bloody or violent as of yet, my instincts are telling me that this will be rectified by the next book so strap in and get ready because this one is about to take off right in your hands.
--
L.B. Bryant