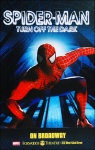 A new behind-the-scenes tell-all book,
Song of Spider-Man
written by playwright Glen Berger who collaborated with director Julie Taymor on the initial version of the
Spider-Man: Turn Off the Dark
musical and then conspired behind her back to turn the show is a "sunnier" direction, paints a vivid, if perhaps a bit one-sided, version of the events that went into to the creation of what
The New York Times
called "the most expensive, debated, and derided musical ever on Broadway."
The final financial verdict on the $75 million
Spider-Man: Turn Off the Dark
musical is yet to be written, but the show will have to perform well for several more years just to break even. The
Spidey
musical recently lost momentum after another actor was injured during a performance (see "
Where's OSHA When You Need It Dept.
"), but in spite of scathing notices the show has defied the critics who predicted a short run when the
Spider-Man
extravaganza bowed on Broadway back in 2011, and
Spider-Man Turn Off the Dark
still has the record for highest-grossing week ever on Broadway.
The
Spider-Man
musical would likely have had a short run if the producers hadn't performed major surgery on its book during the spring of 2011 when the show was shut down for three weeks (see "
'Spider-Man' Turns on the Lights
"). In his tell-all account Berger writes about how he was approached by the show's producers to rewrite the book without informing Ms. Taymor. Eventually Taymor was dismissed and Roberto Aguirre-Sacasa, who had written
Spider-Man
for Marvel Comics, was brought in to help Berger fix the show's script.
Looming behind the changes to show is the powerful presence of Marvel Entertainment. According to Berger, Marvel hated the original treatment that he and Taymor had come up with, calling it "entirely wrong," and "quite dark." The Marvel honchos especially hated one of Taymor's pet creations the spider villainess Arachne.
It's hard not to see the hand of Marvel behind the changes that Berger and Aguirre-Sacasa made to the play's book. The rewrite addressed the concerns that Marvel had right from the beginning. The role of Arachne was greatly reduced, while those of the key players in the standard Spidey origin saga, Aunt May and Uncle Ben were increased, and the role Spidey's love interest Mary Jane also got a major boost. The rewrite may have rid the book of the mythic archetypes and New Age fantasy elements of the original version, but it did so by substituting the standard
Spider-Man
origin elements that led Bono, who comes off as quite feckless in Berger's account of the show's traumatic period, to characterize the rewrite as sounding "like it's out of
The Waltons
."