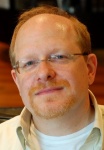 Eisner Award-winning comic writer Mark Waid is now a comic retailer, he announced on the
Thrillbent blog
. Waid has become a partner in Alter Ego in Muncie, Indiana, along with Christy Blanch and original owner Jason Pierce. Alter Ego had been Waid's comic "store of choice" for some time, he wrote, and Pierce had been unable to expand the store due to a shortage of time and resources. With the new partnership, Waid now has "skin in the game," and plans to be an active participant in the retail operation. Waid's plans as a partner include "...logging inventory on Tuesdays and running the register on weekends and navigating the ordering process at our brand new location."
Waid has long been a vocal proponent of digital comics, and co-founded Thrillbent, devoted to curating digital-first comic projects (see "
Mark Waid Talks 'Green Hornet,' Thrillbent, and More
"). He clearly recognizes the significance of his move into the brick and mortar space and welcomes it. "...I--having to, on a daily basis explain to most of the industry that championing digital comics with Thrillbent isn't the same as "hating print"--had been thinking long and hard about what I've been preaching for a while, that print and digital can not only co-exist but feed one another for the overall health of the comics business," he wrote. "It sounds good to say, and I believe it–but with Thrillbent, I had the tools to actually prove only half that equation."
Waid promises to keep the world updated on his retail experience, and on his attempts to make print and digital more successful by feeding off each other, on the Thrillbent blog, titling his anticipated missives "Nuking Windmills" in a tongue in cheek nod to retailer Brian Hibb's "Tilting at Windmills" column on CBR.