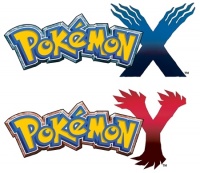 The Pokemon Company and Nintendo will be launching the Nintendo 3DS video games
Pokemon X
and
Pokemon Y
simultaneously worldwide on October 12th, and in conjunction, Cartoon Network will be hosting a Pokemon animation event on Saturday, October 19th, which includes the premiere of
Pokémon the Movie: Genesect and the Legend Awakend.
In a CCG tie-in, the
Red Genesect Collection
will be released September 25th.
ICv2 covered the announcement of the
Pokemon X & Y
sets back in January (see "
'Pokemon X' and 'Y'
"), but details on the CCG sets themselves have not been released. However, they should closely follow the video game release in Q4, probably in November.
The trailer (above) for
Pokémon the Movie: Genesect and the Legend Awakened,
features not only the new Red Genesect (which will make its CCG debut on September 25th in the
Red Genesect Collection
- see below), but also the new Mega MewTwo, which is relevant because of the new 'Mega-Evolved' forms of other Pokemon that feature heavily in gameplay for both the video game and new CCG set.
The on-air event will include a sneak peek of the newest upcoming season of the
Pokémon
animated series
, Pokémon the Series: XY
, which is set in the world introduced in the video game
Pokémon X
and
Pokémon Y
and will feature the animation debut of new Pokemon including Chespin, Fennekin, and Froakie. Several other
X & Y
Pokemon characters: Alexa, Gogoat, Helioptile, and Noivern, will also make their debut on
Pokémon: BW Adventures in Unova and Beyond
on the October 12th episode on Cartoon Network.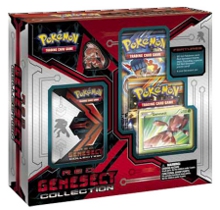 A new TCG product, the
Red Genesect Collection
, will be released Sept. 25, 2013. The box will include the Japanese Promotional Genesect from the 16th movie, an exclusive all Holofoil 60-card Theme Deck featuring Genesect, an exclusive Genesect pin, coin, two
Black & White
series booster packs, damage counters and a strategy sheet. MSRP is $19.95.